From the moment that Janie Dee heard Gershwin's Rhapsody in Blue, she knew where her life would lead her. The actress sings the opening melody during our telephone interview, takes a dramatic actorly pause, as if she is almost transported back to her childhood, and says: 'I couldn't believe it when I heard it. I didn't know what made that noise, or how that noise was made – all I knew was it went right through me. I must have been four or five and I was up, dancing and crying, at the same time. It really got me.'
Soon afterwards, she was taken, through a family connection, to the Royal Opera House to see Margot Fonteyn and Rudolph Nureyev in rehearsal and her fate was sealed. Janie recalls: 'Nureyev was gorgeous and so was she. I remember lying in my bunk bed thinking, 'How do I get from this little village to dancing with Nureyev. How do I do that, what's the journey?'
Janie never did dance with Nureyev, despite exceptional ability. It was her desire to be 'front of stage' rather than in the Corps de Ballet. 'My ballet teacher said to me, 'Let's face it, Jane, you're never going to make it as a ballet dancer'. I was gutted, I was doing quite well but deep down I knew that I was looking at the Fred Astaire and Ginger Rogers style, the Gershwin stuff that had caught my heart before. It's so hard to be good enough to play the dramatic roles of ballet. I wanted to be in the drama of it and so I was always an actress at heart.'
And so, an actor's life beckoned for the oldest of four girls, who grew up in the Buckinghamshire village of Dorney Reach, with a mother and father who worked hard for their daughters – but who themselves had a fiery relationship. Janie recalls: 'I had a wonderful childhood but my parents fought quite a bit. Now looking back that's quite normal in a marriage but at the time I thought it was awful. They worked it out but it's good for actors to have slightly damaged souls so you can understand your characters and other people!'
There was little in her family's history to indicate Janie's future career, although a story about her mother suggests that had she been born in a different age, Janie may well have been the daughter of a dancer. 'My mother was just dying to dance when she was little and one Christmas she was given a pair of pointe shoes and ballet lessons. She started to dance and loved it. But one day she came back from school and found her beloved little brother had washed them, put them in the tub! They were absolutely mashed. And that was it, as her parents had no money. She had the bug but was not able to pursue it.'
Janie's mother's influence was strong – for four daughters growing up in the 1970s she was forward-thinking, and hard- working. A vegetarian, and interested in alternative medicine, she ensured her daughters had the best chance to pursue their dreams. Janie recalls: 'My mother gave us joy. It was a happy childhood – I think of myself running through the fields with my sisters and laughing so much. We all went to Arts Educational and learned to sing, dance and act. Daddy was working his socks off for one of us, then Mummy said, 'we have to send the others'. My youngest sister went to the Royal Ballet School – she danced with Nureyev, and now teaches in France. The other two have both become alternative therapists.'
Janie has a lyrical turn of phrase and soft tone of voice that belie a tough interior – shown in her own strong work ethic and determination to succeed that seems to be a driving force for her. In between stints at Shakespeare's Globe as the Countess of Roussillon, she heads across London to perform her one-woman show, while looking ahead to the autumn season of Noel Coward's Private Lives in Nottingham in which she stars with her husband, the actor Rupert Wickham.
'I'm not one of those people who wants to give up something, to sacrifice one thing for another. I've had quite a long career, starting as a dancer, then I trained in Italy as
a singer. I then started doing musicals then moved over to straight acting.'
Janie's hard work has won her a formidable reputation that has enabled her to work with some of the industry greats – Lord Andrew Lloyd-Webber, Alan Ayckbourn and Peter Hall. She has also been recognised with a cabinet-full of awards, including a three-hander Best Actress gong for her role in Comic Potential (Olivier, London Evening and Critics' Circle).
And so to Shakespeare's Globe where she has won plaudits for her role as the Countess of Roussillon. Of the theatre, Janie says: 'As you step through the vast doors, there is a rush of energy. You get the noise of London but somehow there is a peace and privacy about The Globe. I've never been at a place like it. It's amazing. You walk out onto the stage, so empty, and the first thing you notice is that it caresses you, it feels safe.'
As for the experience of playing Shakespeare, Janie confirms that this does not come easy to actors. It involves intensive preparation with the director and text director, and there are real struggles with meaning and script. Janie describes the process: 'I do as an old Russian teacher advised, 'Put some time apart, sit down, switch off and turn off everything, and devote your time to the person who wrote this play for your sake and their sake. I did that with All's Well That Ends Well. The first conversation that grabbed me is Parolles who says, 'Are you meditating on your virginity?' and they have this chat about why girls should or shouldn't keep their virginity. I thought this was amazing, the fact it was written 400 years ago and this is still the topic for women today.'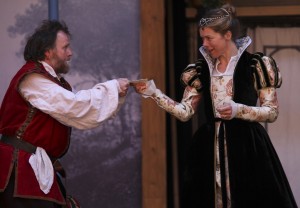 Image by Ellie Kurtz
Janie's relationship with Shakespeare has changed from her schooldays, and it is a lesson for us all to stick with it and to consider language. 'When I was at school we read Shakespeare. I didn't know what we were saying and no one was opening it up to us. We were given the book and one person would read one line, and the next person would read the next. I don't even remember being allocated roles so you couldn't even get into character! But many years ago, when I came to the National Theatre, we sat with Sean Mathias to read Twelfth Night. We started with, 'If music be the food of love, play on' and Sean said 'What does that mean? It means, I want love, and music is love'. And we talked about it long enough so when the actor came to saying the phrase, it had a different meaning.' Janie illustrates with a throaty, 'Play on'.
After this, Janie never had to worry about Shakespeare again. She explains: 'I realised all I had to do was ask, what does that mean?' When you make a suggestion, good directors will say, 'that's interesting, I've never thought of it being like that'. And John Dove [All's Well director] did that.' Directors have a fine line to tread in making the play relevant to a modern audience while being true to the meaning. Janie says: 'In All's Well, John understood that it's no good if we simply love Helena and hate Bertram. It's not as simple as that – it's important that Bertram is seen as a human being. John helped us understand that.'
Janie is looking forward to working with her husband in Private Lives – if only to break a plate over his head every night, she jokes. Like all working mothers, she has to juggle – and while her life may appear blessed and a piece of cake, Janie works hard, while showing a warmth, an understanding and love of her craft that should book her a place in the actor's hall of fame.
The Globe Theatre season continues until October 2. For details see www.shakespearesglobe.com. The theatre runs tours and exhibitions throughout the year. Private Lives by Noel Coward runs from October 7-22 at Nottingham Playhouse. Visit www.nottinghamplayhouse.co.uk
A few of my favourite things
Favourite book: The Bible. I go to The Bible, especially when I do a play like All's Well. It scares me that I don't agree with parts of it, but there are parts of the New Testament which fill me with spirit. On the opposite scale, there's another book The Kitchen Pharmacy by Rose Elliot with Carlo De Paoli. They got together to talk about food and if you have anything wrong, you can go to the book and almost cure yourself. To be honest, I tend to go and get some antibiotics, then read the book!
Favourite film: Toy Story 3 was amazing. The Lives of Others I love, as well as The Way We Were with Robert Redford and Barbra Streisand. And I love Bambi too!
Favourite television: I like to watch a really good drama series or comedy series. I love Green Wing and Friday Night Dinner. Because of the children and work I don't watch it unless we watch The Simpsons together. I'm quite pleased with that, my life is full.
Favourite play: It's very difficult to pick one but Macbeth, directed by Lucy Bailey at The Globe with Eliot Cowan playing the lead, was wonderful.
Portrait: Shambhala
Category: Big Interview, Homepage, Sidebar
Tags: Alan Ayckbourn, All's Well That Ends Well, Arts Educational, Barbra Streisand, Bertram, Carlo De Paoli, Colin Hurley, Comic Feet, Countess of Roussillon, Critics Choice, Dorney Reach, Ellie Kurtz, Fred Astaire, Friday Night Dinner, Gershin, Ginger Rogers, Green Wing, Italy, Janie Dee, John Dove, Lavatch, London Evening Standard, Lord Andrew Lloyd Webber, Lucy Bailey, Macbeth, Margot Fonteyn, New testament, Noel Coward, Nottingham, Olivier Award, Parolles, Peter Hall, Private Lives, Rhapsody in Blue, Robert Redford, Rose Elliot, Royal Ballet School, Royal Opera House, Rudolph Nureyev, Sean Mathias, Shakespeare's Globe, Shambhala, The Bible, The Kitchen Pharmacy, The Lives of Others, The Simpsons, The Way We Were, Toy Story 3, Twelfth Night