Image: Golconda 1953 The Menil Collection, Houston © Charly Herscovici Brussels 2011
By Aliss Langridge and Joanne Baldwin
'Art evokes the mystery without which the world would not exist.' – René Magritte (1898-1967)
The apple, the biblioquet, a suited man in a bowler hat… three examples of repeated motifs which have become iconic images from the work of René Magritte. The Belgian surrealist painter mixes the extraordinary with the mundane to create disconcerting pictures which challenge the concepts of illusion and reality. His work compels us to look for the strange in the most conventional aspects of our lives, placing everyday objects with familiar meanings in unusual situations, encouraging us to question their significance.
Magritte's art has had an indisputable impact on popular culture, inspiring the Pop, Minimalist and Psychedelic art movements of the 1960s and 1970s. Artists from Andy Warhol to Jasper Johns were inspired by him. Storm Thorgerson and Aubrey Powell of the design team Hipgnosis – creators of iconic rock album covers for the likes of Pink Floyd, Led Zeppelin and Genesis – were influenced by his work. More recently, film director Terry Gilliam (whose Imaginarium of Dr Parnassus includes images of white fluffy clouds in a bold blue sky similar to Magritte's abstract pattern in the 1931 work The Curse) has paid tribute to his art.
After viewing a substantial number of Magritte's paintings from different stages of his career, it's easy to see how he could be a strong model of inspiration for younger artists. Many commercial advertising images and designs for posters, leaflets and shop windows have been influenced by his famous images. The use of colour and design is intriguing to look at for young adults – particularly the strange landscapes and imagery. The Tate exhibition consists of paintings, collages and early work. Famous paintings are presented alongside less well-known pieces, revealing a close insight into all aspects of Magritte's work as well as shedding light on his personal life.
Magritte was an ordinary man who lived conventionally and seemed to prefer a quiet existence. Apart from a brief interlude in Paris in the late 1920s, he spent most of his life in Belgium. His mother's death in 1912 is often described as an influence. The Lovers (1928) features a romantic couple's heads shrouded as they kiss. Despite their otherwise conventional choice of dress and intimate embrace, the shroud creates a disturbing feeling of the familiar mixed with the strange. The image is thought to have been a projection from Magritte's subconscious: a childhood memory of his mother's dead body, which was rumoured to have been found with her head veiled by her gown.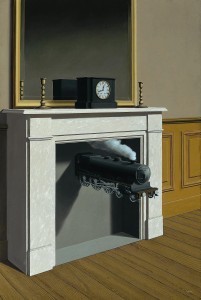 Image: Time Transfixed 1938 The Art Institute of Chicago © Charly Herscovici, c/o ADAGP, Paris 2011
The fusion of the familiar and mystical recurs throughout Magritte's work. Golconda (1953) is one of Magritte's most famous paintings, with the staid image of the suited man in the bowler now a recognised motif. The mundane suits of the men suggest they are going to work. The use of colour and design is intriguing to look at for young adults – particularly the strange landscapes and imagery. This contrasts with them falling from the sky as dull raindrops – an extraordinary sight to see! Magritte identified with the 'everyman' – the image of the man in the bowler hat is considered to represent both a self-portrait of the painter and also the ordinary nature of existence. The Dominion of Light (1953) offers a similarly peculiar vision. It depicts a nocturnal street set against a blue sky with Magritte's iconic clouds; an ordinary night scene, only night is presented alongside day … suddenly a familiar scene becomes disquieting. Magritte's invention of paradoxical realities is evident with this simultaneous state of day and night.
'The art of painting seemed to me to be vaguely magical and the painter to be gifted with superior powers.' Magritte
In Magritte's work, inanimate objects are often bestowed with human qualities. The Encounter (1926) features the biblioquet, a toy resembling a skittle or a chess piece with oddly feminine contours. Three biblioquets with a single eye 'gaze' at their reflection in a mirror. The effect is both unsettling and playful. The Anunciation (1939) features a series of metal pipes with balls soaring upwards, bringing to mind a church organ and an altar. Two biblioquets stand in front. As inanimate objects, the bibiloquets lack the requisite human sensibilities to bestow this 'altar' with spiritual significance, yet the altar's presence against the dry, parched backdrop of rocks and desert bushes feels spiritually uplifting – even miraculous – in itself. High Level Meetings (1947) further juxtaposes the mystical and mundane: the disembodied and faceless features of a woman – eyes, lips and a mouth – are present in a dream-like landscape.
'What one must paint is the image of resemblance, if thought is to become visible in the world' Magritte
Magritte's work explores the connection between reality and reproduction; the power of the image and how it has become synonymous with the literal. A famous example is The Treachery of Images (1928), a painting of a pipe under which is written the words 'Ceci n'est pas une pipe,' or 'This is not a pipe.' Magritte is stressing that it is merely an image of a pipe, not the real thing. Ironically, the exhibition features several fine examples of Magritte's advertising art; he himself disliked this work, considering it little more than a necessary evil to supplement his income during his early artistic career.
This Is A Piece of Cheese (1963) examines the relationship between true objects, images and words; thus raising the question: what is the real thing? The work features a small framed painting of a piece of cheese, set underneath a glass dome. Although not an actual piece of cheese, language allows us to describe it as such.
There are some deceptively simplistic pieces which would capture the imagination of a young audience because of their bizarre content. The Listening Room (1958) consists of a giant apple contained in a box room which it dominates. Paintings like this can generate questions: why has it been created? What ideas does the image suggest? What is the significance of the title? Is there any link between the painting and its title?
The Tomb of the Wrestlers (1960) would also generate discussion: comparisons can be made to The Listening Room. An object is contained in a room – in this painting it's a large, beautiful rose. Once again, the viewer would ask questions: what is the title's significance? Is there a message about beauty? Is the room a tomb for this giant rose? How does it compare to Magritte's other works?
One Night Museum (1927) is a stunning example of an early 3-D effect. The painting consists of four items on shelves: an apple, a glove, an object shaped like a boot and a fourth item, elusively concealed by a paper cut-out. This piece was inspired by the 'cabinets of curiosities'- rooms or display cases featuring unusual or exotic objects that were popular during the Renaissance era. If the viewer stands a short distance away, the painting seems to 'pop' from the wall; again, Magritte is playing with our perceptions of reality and the illusion.
In The Flame Rekindled (1943), a mysterious, masked figure towers over a burning, crimson-skied Parisian cityscape. The figure is Fantomas, a pulp fiction villain beloved of the early Surrealists. The viewer notices his relaxed pose, the white flower in his hand. Magritte painted this piece at the height of the Second World War. Fantomas, ostensibly a rogue, has been transformed into a symbol of dissidence, a longing for a hero in times of trouble and a throwback to a more innocent era; the fictional villain looking over the real-life devastation of his city. The white flower may represent a yearning for peace; it might also suggest the helplessness of the fictional in the face of gritty reality. Viewers with an interest in comic-book imagery will note the kinship between this piece and the iconography of masked heroes such as Batman, who has also been depicted as a shadowy figure 'looming' over Gotham City.
René Magritte created many unique images to evoke a mysterious version of reality to challenge our own, creating extraordinary scenes and making the familiar, unconventional and unsettling.
René Magritte: The Pleasure Principle Tate Liverpool 24th June – 16th October 2011. See www.tate.org.uk/liverpool/exhibitions/renemagritte for further details and prices.
Tags: 'Ceci n'est pas un pipe', Andy Warhol, Aubrey Powell, Batman, Belgian, Belgium, Genesis, Golconda, Gotham City, High Level Meetinfgs, Hipgnosis, Imaginarium of Dr Parnassus, Jasper Johns, Led Zeppelin, Magritte exhibition review, Minimalist Art, One Night Museum, Paris, Pink Floyd, Pop Art, Psychedelic, Rene Magritte, Rene Magritte - The Pleasure Principle, Storm Thorgerson, surrealist painter, Tate Liverpool, Terry Gilliam, The Art Institute of Chicago, The Curse, The Dominion of Light, The Flame Rekindled, The Listening Room, The tomb of the Wrestlers, This is a piece of cheese, Time Transfixed