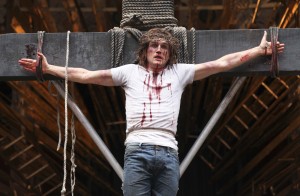 Image by Ellie Kurrtz
There is always someone in life that can transform, help you change direction, and time again it is a teacher. For actor William Ash this transformer came in the shape of his English teacher, Colin Snell, who set many a young actor on the road to the stage and screen. William recalls: 'Colin is retired now and was brilliant. He used to do our school plays but he also set up a theatre group with some ex students out of school and I started taking part in them. But they weren't typical plays like Bugsy Malone or Oklahoma! – he did quite dark stuff like Amadeus. Our head teacher must have been quite liberal. We did Bent outside of school which I was in. Colin was brilliant, an amazing teacher. A lot of people from my school, a comprehensive, ended up being actors because of him.
'He moved to a school in Blackpool called Arnold Senior School and he was a drama teacher there. It was funny: when he went to that school no one had ever gone to drama school and after his first year he had about three people who went. Jonas Armstrong who plays Robin Hood was one of those three. It's interesting having that influence. He opened up something bigger; it was about expressing yourself, trying to get better at it, trying to push yourself and explore what makes a human being what they are. He was a massive influence on tons of us who went to that school.'
Now a recently-appointed Globe Patron for the Playing Shakespeare with Deutsche Bank season, acting was not William's first choice of career. There was no showbiz background in his family, which moved to Oldham when he was young. William's father was an engineer who worked in the same place all his life and his mother worked for the police as a civilian – and as a secretary quite a while before that.
He recalls: 'My dad played a lot of football and played semi professionally and that is what I wanted to do, be a footballer, until I was 16/17. I have a sister and she teaches psychology and sociology in Oldham so she watches Waterloo Road and tells me where I'm going wrong.' As a boy in a Manchester United-obsessed family, William wanted a career in football. But he candidly says: 'I think I was deluded that I could make it as a footballer when I look at it! I broke my leg playing football when I was 15 and couldn't play for a year so the acting took over.'
William had started acting when he was eight as a member of the council-run Oldham Theatre Workshop, which became a talent pool for Granada Television at the time. Children's drama was popular and young William won a role in the respected Children's Ward programme, which was written by Paul Abbott and Kay Mellor – both now highly-respected screenwriters.
The football career was off the agenda after he broke his leg. But he had to do something. He says: 'Still at that stage I didn't know I wanted to be an actor and decided to take a year off – I applied to do sociology at Nottingham – but then chose to knock it on the head. I was really lazy – I only applied to two drama schools. I was accepted by Bretton Hall – Manchester Met knocked me back.
'I got an agent in London – I already had one through Oldham Theatre Workshop and ended up working during the year out – TV stuff – so I just carried on working. I'd done a programme called the Bare Necessities – it was The Full Monty before it came out – about a group of miners who all became strippers.'
William has had a busy and varied career since then – playing in popular television dramas Where The Heart Is, Clocking Off and Waterloo Road. He says: 'Some teachers I've met have said Waterloo Road is just like this and I was shocked – it can't be! I phoned my sister one day while she was at school and she answered the phone. I said, 'you're not in a class, are you? And she replied, 'No Will, I wouldn't answer the phone in class – this is not Waterloo Road!'
William's lack of formal training has been an advantage in many ways. He says: 'I did make a conscious decision to try to do as much theatre as I could – to learn the knowledge of theatre that you get when you go to drama school. I made a big effort to read up, do loads of plays and learn on the job. I'm quite proud in a way that I didn't do formal training because I look at things in a different way to people who have trained. Everybody knows as much or as little as each other!
'For example, when I was at Shakespeare's Globe doing The Globe Mysteries last summer, it was all verse speaking and I was terrified. I didn't understand a lot of the text and was quite worried about it. And I realised that everyone was in the same boat in terms of knowing the text. You learn it together.'
William, who was in between rehearsals for a four-week run at the Edinburgh Lyceum as George in Of Mice and Men, is relishing his role as a Globe patron, which he hopes will inspire young people to enjoy Shakespeare.
He says: 'The Globe is a fantastic place – makes you feel like a rock star when you're on stage! It's totally unique, very special especially when it's full and the interaction you get with the audience is unique.
'I hope my connection with Waterloo Road can help – for all the young people who watch it. I remember watching Shakespeare when I was a teenager and I saw some really good productions and some others that were rubbish. You hope that the first Shakespeare young people see is brilliant because it can be really intimidating, especially when it's on the page and you have to stand up and read it in class – that can be awful! When Shakespeare is done well it's fantastic.'
As for an actor's life, William is realistic. He says: 'It's such a powerless profession being an actor because you rely on people to generate work for you. You can't act on your own. You've got to turn your hand at other things – I had to, I couldn't sit in the house waiting for the phone to ring. The last two years have been brilliant because I've had something to do when I've not been acting.
'We've been commissioned to write a comedy for Radio 4. That's advice I'd give to any young person – do something else too! People used to say that to me and I thought they meant be a plumber!'
William is a patron of Globe Education's Playing Shakespeare with Deutsche Bank project, which is giving 14,000 teenagers free tickets to a specially-commissioned production of A Midsummer Night's Dream at Shakespeare's Globe. www.playingshakespeare.org The season runs for two weeks from February 27 to March 8.
Category: Big Interview, Homepage, Library, Sidebar
Tags: A Midsummer Night's DReam, Arnold Senior School, Bare Necessities, Bent, Bretton Hall, Bugsy Malone, Children's Ward, Clocking Off, Colin Snell, Edinburgh Lyceum, Ellie Kurrtz, Godfather II, Granada Television, Human Remains, Jack Kerouac, Jonas Armstrong, Julia Davies, Kay Mellor, Macbeth, Manchester Met, Nottingham, Of Mice and Men, Oklahoma!, Oldham, Oldham Theatre Workshop, On The Road, Paul Abbott, Playing Shakespeare with Deutsche Bank, Rob Brydon, Robin Hood, Shakespeare's Globe, The Full Monty, The Globe Mysteries, The Wire, Waterloo Road, Where The Heart Is, William Ash