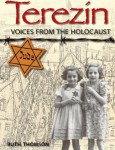 Non-fiction is often not the first genre we think of when talking about writing for children, living as we are in the golden age of literature for the young. But Ruth Thomson's success in the 2012 Educational Writers' Award is changing that.
Her book Terezin: A Story of the Holocaust won high praise from the judges who said: 'We'd go as far as to call this one of the finest children's non-fiction books for many years.' Sorry to lower the tone but…blimey! The book, for children aged 11 upwards, tells the story of the Terezín/Theresienstadt fortified ghetto in occupied Czechoslovakia during the Second World War, where the Nazis imprisoned thousands of Jews, and from where they subsequently sent many to their deaths. The book features first-hand accounts of life in the town, as well as many moving works of art from some of the artists who were incarcerated there. The judges blown over by the work were writer and former publisher, Simon Adams, secondary school modern languages teacher, Louise Trevelyan, and school librarian, Jenny Berggren. They explained their reasons for choosing it as the winner: 'This book shows striking images from Terezín that are powerfully combined with first-hand accounts from those who lived there, to tell a remarkable and harrowing story few us knew much about before. By investigating life inside one camp, the author lays bare the horrors faced by everyone caught up in the Holocaust.'
The Educational Writers' Award was established in 2008 by the Authors' Licensing & Collecting Society (ALCS) and The
Society of Authors 'to celebrate educational writing that inspires creativity and encourages students to read widely and build up their understanding of a subject beyond the requirements of exam specifications'. Other shortlisted titles were Really Really Big Questions About Faith, by Dr Julian Baggini illustrated by Nishant Choksi (Kingfisher); The Story of Britain, by Patrick Dillon and illustrated by PJ Lynch (Walker); and Into the Unknown: How Great Explorers Found Their Way By Land, Sea and Air, by Stewart Ross illustrated by Stephen Biesty.
We at Ink Pellet towers know that many of our readers are closet writers and if you need support you could join the brilliant National Association of Writers in Education. The membership organisation works to further knowledge, understanding and enjoyment of Creative Writing and to support good practice in its teaching and learning at all levels. In reality, this means offering support for writers – including an eclectic and useful selection of workshops. This one caught my eye, though I admit it's not timed well for hard-pressed working teachers as it runs from February 8th to the 17th: a retreat in the Sahara Desert at the evocative-sounding, Café Tissardmine in Morocco. Wow! As well as offering the chance for intense reflection alone there are group workshops and sessions. Run by English-born Australian artist Karen Hadfield and her Berber business partner, Yousef Bouchedor, she is helped in the house, the compound and kitchen by local berber staff, many of them from Yousef's family. I want to go. The price of 13,700 dirhams (£1100 approx) includes full board, accommodation in a deluxe Berber tent and airport transfers. Find out more from Nawe at www.nawe.co.uk.
Less glamorous, it might be said, but equally useful is The Education Show 2013 which this year takes place in Birmingham. There is much to exercise the already tired brains of teachers in the world of education – from increased
automony for schools, academies, changes to Ofsted…okay we'll stop now. But all this is put into some kind of perspective at the show where issues can be debated and discussed among education experts, educators, associations and policy makers. Free to attend, The Education Show, which runs from March 14-16, is the UK's largest showcase of educational resources, best practice methods and CPD training. You can catch up with latest news at using Twitter at www.twitter.com/EducationShow or Facebook at www.facebook.com/EducationShow. Unsociable luddites should head to the website at www.education-show.com Before then, don't forget to book your place at BETT 2013. The technology showcase event takes place at the ExCel London from January 30 to February 2 and will bring visitors up to date with the latest technological support for the classroom. There is a chance to join lectures, workshops and seminars as well as taking art in training sessions. You can book your place at the free event by going to www.bettshow.com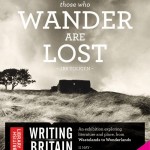 The British Library's Writing Britain: Wastelands to Wonderlands was such a success it has now won funding to stage exhibitions in four city libraries. The project also aims to encourage young people aged between 16 and 24 who are not in
formal education to collect and show their responses to place. Thanks to funding from the Paul Hamyln Foundation, the project will take place in Newcastle City Library, Leeds Central Library, Norfolk and Norwich Millennium Library and Bristol Central Library.
Tags: 2012 Educational Writers' Award, Bett 2013, creative writing, Dr Julian Baggini illustrated by Nishant Choksi (Kingfisher, ExCel London, illustrated by PJ Lynch, Into the Unknown: How Great Explorers Found Their Way By Land, Jenny Berggren. ALCS, Karen Hadfield, Louise Trevelyan, Morocco, nawe, OFSTED, Patrick Dillon, Really Really Big Questions About Faith, Ruth Thomson, Sahara Desert, Sea and Air, Second World War, Simon Adams, Stephen Biesty, Stewart Ross, Terezin: A Story of the Holocaust, The British Library, The Education Show 2013, The Story of Britain, Walker, Writing Britain, Yousef Bouchedor