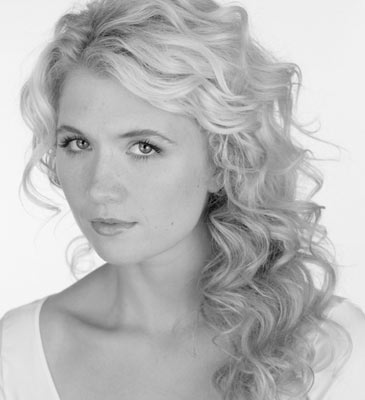 Scarlett Strallen's star is in the ascendant. She is gliding through starring roles of West End productions – she has played Clara in Passion, Mary Poppins, and when we speak she is wowing crowds as Kathy in the smash Singin' in the Rain. She follows that this Spring with A Chorus Line in which she plays Cassie. The musicals may be big and brash but Scarlett is softly spoken, and – even over the telephone exudes joyfulness (to steal one of her own words) that leaves me with a warm glow for the rest of the day.
Scarlett clearly adores the job she was born to do. Her parents were both actors and performers, her aunt is Bonnie Langford and her grandmother ran a busy dance studio. 'My childhood was very, very, very happy. We grew up in Twickenham. I went to a normal school until I was about nine then begged my mum and dad to audition for Arts Educational and they said of course,give it a go. I grew up in a world that is so completely magical, although it's not all glitter and light of course. A lot of it is hard work and sweat and doing a lot of work for not much money. I saw the tiredness, both of them having to take on jobs during the day because it's not brilliantly paid at the theatre. I saw them dealing with the childcare issues. I recognised the difficulties mum and dad faced having to leave us at night, watching them go to work and play dress up. I can't imagine doing any other job and then it became apparent that I was quite good at it quite young.'
The difficulties in finding nannies to look after children at unsociable times of the day meant that Scarlett spent a great deal of time in theatres; waiting for her parents and this is how she won her first role. Scarlett recalls: 'The first show I did was Aspects of Love with my dad. I used to go and sit with him on Saturdays so I wa sin the world. There was a part for an eight-year-old girl and I asked if I could audition.'
Scarlett, who has three sisters who areall working in showbiz now, was a quiet child, who worked hard at school and doesn't hesitate to name several people who influenced and inspired her. She says: 'My aunt [Bonnie Langford] was at the height of her Hot Shoe Show, she was the lady of the moment. I remember going to see her and feeling very proud. My mother was also such a beautiful dancer, so inspiring.'Now she is doing a career she loves, learning on the job.
Preparation for the opening of A Chorus Line started with a week-long boot camp with the 73-year-old powerhouse Baayork Lee, who has devoted her life to ensuring the musical is performed as it should. Scarlett says: 'The Cassie dance in Chorus Line is 12 minutes long – there is a long monologue, then it goes into this epic routine. It is very technical but also about stamina. I had an incredible week with Baayork and her assistant – I managed to go through the routine once from top to bottom. At the end, she made me put my feet up to massage my legs and then feeds me grapes – for energy! She really is wonderful- but fierce. It was a bit like going back to drama school – pushing myself so hard.
'I knew the routine – it's sort of in a dancer's DNA – but that is slightly dangerous too because you think you know parts of it but actually you don't. But Baayork is so protective about preserving the piece– it's almost a vintage piece – so she is very, very strict about every movement and the style – like how you hold your head, or how you position the shoulder.'That is just the start – full rehearsals continue this month but there is little time for rest after Singin' in the Rain. That is the way of Scarlett's world.
She says: 'We do eight shows a week – two on Wednesdays and Saturdays. You just have to look after yourself and I've been really lucky with Singin' in the Rain– maybe because it's so joyful I haven't stressed about it. When I was doing Mary Poppins, I felt the show was on my shoulders especially in the beginning– I come down with things through stress and worry. You have to eat well, drink lots of water and get lots of sleep.'
Singin' in the Rain has clearly been a happy project: 'It is completely uplifting and joyful – in an unexpected way for me. I grew up with watching Hollywood musicals and being obsessed with them, loving the style but then I went down a different route in my career. I wanted to explore my acting side and straight theatre world. It's funny in this country that it feels uncelebrated if you do all three! I wanted to be considered a serious actress and didn't realise I had turned back on dancing.'
The show is choreographed by Andrew Wright, who paid homage to the style of the film but created completely new routines, allowing the artists to develop character. Scarlett says: 'In rehearsals, Andrew put the three of us (Adam Cooper and Daniel Crossley) into a room and let us see what worked on us, it was very together.
'We started with Good Morning and Adam and I did a lot of partner work– I couldn't believe I was dancing with him! Every time he lifted me I just squealed. I was nervous going in as I hadn't really tapped before and Andrew's choreography was so fast; it's a case of getting your brain back into that way of thinking.
'I love rehearsals. I love the safety and security; that feeling you're making something together in a room. The moment you make a transition on a stage it's always terrifying – you have to give that work over to other people.'
Audiences have loved the show and that may be because the story is timeless, and also because musicals have regained some street cred. Yes they are big, bold, brash and camp but audiences are enjoying them again. Scarlett says: 'With musicals, there's such a heightened delivery; the emotions have to be so high. We decided to play Good Morning as if we'd had slightly too many because you're a bit more open and joyous…otherwise it's hard to be true. You're depleted one moment, then you have to go into, 'Oh God I've got this great idea!' and launch into a massive song! It can feel quite forced and this is what our director Jonathan Church did with us; he made us try to find the truth in it and not to make the characters too two-dimensional. So it wasn't all 'cheeseball' which is what people generally think about musicals.
'Maybe people realise musicals have wonderful stories. Singin' in the Rain was set in the 20s, when film was changing and sound was coming in. It was a massive period of history and change. I think it was written just after the depression and it brightened everyone's spirits. Nowadays everyone is so depressed and low, maybe we need a dose of an unrealistic and uplifting piece of theatre!' That seems to sum up Scarlett's raison d'etre. Blessed with a magical childhood and talent,one is left with the feeling that her role in life is to share that magic around. She wed musical director Nicholas Skilbeck three years ago, and,although life is busy, she wouldn't have it any other way. She adds: 'We don't have a huge amount of spare time – it doesn't stop but I love it like that. I dread the moments of nothing.'
A Chorus Line previews start February 5th at the London Palladium. Tickets are now on sale through the website www.achrouslinelondon.com.
A few of my favourite things
Musical: The one I saw on stage was Sunday in the Park with George and that really moved me. My favourite movie musical is Seven Brides for Seven Brothers – it just makes me feel so happy.
Film: I love film. I love Hitchcock and saw Vertigo recently.Then yesterday with my stepson I watched Home Alone, [here, she giggles a lot!] – it's one of my favourite movies.
Theatre: After the Dance by Terrence Rattigan. I'm desperate to seethe Mark Rylance's Twelfth Night. It is the first one I did in Regent's Park.Television: I don't watch a lot but I love The X Factor, although my husband hates it. They're just amazing singers. When I watch people singing and performing I think to myself how do they do that?!
Music: I quite like folk – I love a Joni Mitchell and Laura Marling. And I love Michael Buble.