Cathy MacPhail says her one regret in life is that she did not start writing sooner. Not until her children were growing up did she take the plunge and join her local writers' group. 'They gave me so much confidence; I started sending stories away and getting them published.'
Life seems to have come to Cathy – things happen to her, as if she were a character in her own novel. She expresses wonder at her success; this kind of thing does not happen to a former mill girl from Greenock. She has not moved from her home town on the River Clyde. Maybe that is what keeps her feet on the ground. Even the upcoming release of the film Another Me, based on her novel, fails to dent her modesty.
She says: 'I am very excited about the film it's one of those things you hope will happen. It's a dream come true. Isabel Coixet, the director, who also wrote the script, really loved the book. She and the producers loved the idea of this girl being haunted by yourself… being torn – is she haunted or going mad?'
Often writers will 'hand over' their work to film producers; Rick Riordan never saw the adaptation of his first Percy Jackson novel which bore very little relation to the original script. Cathy, who features on the film credits as executive producer, is pragmatic: 'Isabel sent me the script to let me see it and they kept very close to the book but there is a point when you have to step back – if it's going to be a film, you have to accept there will be changes.
'For some reason they changed the name to Panda Eyes at first. I couldn't understand because 'Another Me' had another meaning. If you take the 'A' away, the title becomes 'Not Her Me'. When Fox took over the production, they took it back to the original title, thank goodness.'
Another Me was first released in November in Italy and has already won great praise. It stars actors of the moment, Sophie Turner (Game of Thrones), Jonathan Rhys Meyers (Dracula) and Rhys Ifans (Notting Hill) and is set for release – and success – later this year. Cathy's brush with the glamorous world of showbiz is a far cry from her start in life.
Born in 1946, the third child of four, life was hard. She says: 'My mum was a widow with four wee girls. My dad died when I was two and my mother was pregnant with my little sister. I came from a real working class background. I grew up in Greenock – we were right on the River Clyde, with its sugar houses and mills. I had to leave school at 15 and went to work in the local mill. It was hard work.
'I always wanted to be a writer – as a girl I was always writing stories and making up stories. It was always something I dreamed about. But I can't say there was a teacher who supported me – if I had said I wanted to be a writer when I was at school, they would have laughed at me. I did have a brilliant primary school teacher who really taught me about grammar, about English, about stories. She ended up teaching my son! After I got married I'd had my three children and I thought if I don't do anything about it now I never will, that's when I joined the writers' club.'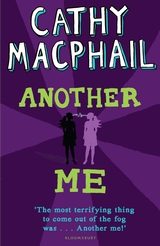 Cathy started writing 'twist in the tale' and romantic stories – 'there was a big market for romance' and she also wrote a radio story too. She says: 'I wrote two romantic novels and realised I wasn't quite cut out for romance. I was much better at funny things and then one of my short stories ended up in a comedy series on Radio 2 called My Mammy and Me and then it was developed for television. I had another comedy series commissioned by BBC television that was about mill girls – they made a pilot but it was cut. I was disappointed it wasn't made.'
At the same time Cathy was writing children's books and that took off. Her first children's novel, published in 1994, Run Zan Run was based on the horrific bullying experienced by her daughter Katie. 'The experience made me so angry – there was so little done for her, there was no support. Once the story was written, it was so wonderful to see it in print. It won an award called the Kathleen Fidler Award [for new Scottish fiction]. Run Zan Run came out quite quickly. Of course a book starts from an idea; then I tend to write a blurb, then I write a synopsis and then I'll write the book so I know where I'm going. Generally a book will take me  four to five months to write.'
Cathy's work has been widely praised for its urban, gritty and emotive themes. Her characters are easily recognisable to her readers – and this is no surprise because she finds inspiration wherever she turns. Her series of ghostly tales with the heroine Tyler Lawless has won many fans. 'Whenever I go to schools I always tell the pupils that the ideas are there; you can train your brain to find them. I know exactly where the idea for each book has come from. 'For example, a school in Edinburgh asked me to give them a first line in a short story competition and I gave them this line: 'I saw my teacher in the queue at Tesco's last Christmas. I was surprised to see her. She had been dead for months…'
'When I went back to the school they were excited and I thought: how could I develop this? If I'm expecting them to write a story how could I write a book? Then I started to think…I went to another school way down in Dumfries; a very cold, Catholic college with long corridors. The pupils were saying, 'You should set a story in this school'. So I started to think about a girl going to that school. Soon after I went to another school in Falkirk and I was signing books. A girl came up, I asked her name and she said 'Tyler Lawless'! What a story that is!'
Her next venture is the publication in spring of Jenny's Choice, another short story that has been extended into a book. It was originally written as part of WOW366 [366-word short stories by 366 authors], but caught the attention of the publisher Barrington Stoke and was released in November as one of their Short Reads, illustrated by Vladimir Stankovic.
One slight downside of this golden era is that Bloomsbury has decided not to publish any further Tyler Lawless novels. 'I'm writing another one so will have to publish it myself.' As well as continuing to write, Cathy is also Patron of Reading at Falkirk High School, a role she loves. She says: 'It's a new initiative, linking writers to schools, trying to do their best to encourage pupils to read books, to enjoy books, to get the most out of books. It makes the school feel it has its own writer.' Her advice to young writers is: 'Get a notebook and write everyday – write something every day – it might be something you hear, something you see on the news; then you've got ideas you can draw on. The more you write the better you get at it – you have to train yourself. And read!'
This advice has clearly been picked up by her son David, whose first book is published this year. Cathy proudly adds: 'I'm more excited for him of course!' 
A few of my favourite things
FAVOURITE SHAKESPEARE: Macbeth, not because I'm Scottish but I loved the story! I saw it at the National Theatre Live. Oh my goodness it was amazing!
FAVOURITE BOOK: I have so many – Pride and Prejudice and Therese Raquin by Emile Zola.
FAVOURITE CHILDREN'S BOOK: Once by Morris Gleitzman
FAVOURITE FILM: Some Like It Hot FAVOURITE MUSIC: I like Chopin but I do like pop too! I was forced to take my grandchildren to see the One Direction film and, do you know, I loved it!