Great art for everyone': that was the goal of the Yorkshire Sculpture Park founder Peter Murray 35 years ago. From a £1,000 starting fund which paid for 31 sculptures in the beautiful 18th century-designed Bretton Estate back in 1977, the Park is now a giant cultural hub bringing to thousands of visitors awe-inspiring art, education and heritage – not to mention the great outdoors.
This is truly a unique place that, as well as contributing £5 million to the local economy, in its 500 acres of varied landscape, offers art lovers, walkers and schools access to five indoor galleries and a rolling programme of modern and contemporary sculpture.
Combining works from big names like local girl Barbara Hepworth (who grew up in Wakefield), Henry Moore and Antony Gormley, striking new pieces in a variety of materials have been added over the years.
The Park offers a varied and prestigious learning programme. One of its partners is Culture Street where artists like David Nash, installation artist Rebecca Chesney and sculptor Andy Goldsworthy work with young people to create innovative pieces using a range of media and art practice.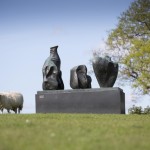 With a seemingly endless pool for inspiration, this year's YSP Wild is a case in point, with the lens being turned to the vast number of different animals, insects, birds and plants that have made YSP their home. The Bretton lakes support at least 60 species of breeding and overwintering (hibernating and migrating) birds and also hosts the largest heronry in West and South Yorkshire. Seven species of bat have been recorded at YSP, water voles have been spotted as well as three types of woodpecker.
Plenty then, to inspire painting, drawing and writing. The season kicked off this month with a Wild Weekend, encompassing mini beast hunt, craft sessions and two new bird and bug inspired exhibitions: Asha Munn: Fly Away Home and Jordan McKenzie: Carl An(t)dre + LeWitt Lean.
Fly Away Home explores the links between people's lives, their homes and the natural world. Inspired by human nature and the built environment, the artist explores the human need to dwell, social difference and the thinning hierarchal divide . The exhibition builds on Munn's summer project Breathing Space, in which she worked with vulnerable young people, exploring the relationship between art therapy, the environment, young people, mentors and the artist's own practice.
Meanwhile McKenzie's work Carl An(t)dre + LeWitt Lean comprises two films recorded at YSP which examine the relationship of sculpture to performance practice and art history. Carl An(t)dre, 2014, presents a performance by 20 people dressed as ants, creating structures inspired by Carl Andre's brick art work Equivalent VIII, 1966. His second film LeWitt Lean, 2014, is a new work showing performers leaning on Sol LeWitt's sculpture 123454321, 1993.
Janette Robinson, YSP's Head of Learning, said: 'YSP Wild is a fun and fascinating way to find out about the different wildlife in our local countryside. We're showing people four different habitats at YSP (parkland, lakes, woodland and wood-pasture), the variety of animals and plants that can be found in these environments, and the endless creative activities they can inspire.'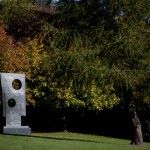 YSP has also teamed up with regular partners the RSPB and Yorkshire Wildlife Trust to support the educational programme. On April 6th, the Park hosts a Dawn Chorus Walk (for those up early on the first week of the holidays!) and there is heron  watching on May 11.
Jo Keene from the RSPB, said: 'We have worked with YSP for a number of years now, so it's great to be able to continue and expand this through YSP Wild. The Park has an abundance of wildlife living within it, including many well-loved species like kingfishers, thrushes and frogs. This makes it a wonderful place to find out more about the wildlife that we share our landscape with.'
For more information about Yorkshire Sculpture Park visit ysp.co.uk. Check out too, the brilliant Culture Street at www.culturestreet.org.uk
Image credits
Henry Moore's Three Piece Reclining Figure No 1 1961-62 Photo Jonty Wilde
Antony Gormley: One & Other (2000) Photo Jonty Wilde
Jonathan Borofsky's Molecule Man 111 1990 Image Jonty Wilde