Where does artistic vision come from? That was the question prompted by a conversation with Matthew Bourne, the boy from unglamorous Walthamstow who has transformed ballet, pulling in vast audiences who are falling in love with the art form for the first time.
Untrained except in amateur youth productions, he went from selling books at the National Theatre to an audition at the Laban Centre.
'To be honest, I think Laban was more impressed with my passion for the subject rather than my movement. I was also male – there were many more female applicants. I'd done no formal dance training at all; the first class I did was for my audition at the Laban Centre.' Bourne says.
It wasn't as if he came from a showbiz background. 'Walthamstow was a pretty dreary place to grow up – everything outside of school was good for me. My parents were both big fans of theatre, movies and music, of a very popular kind. There was no classical music of any kind.'
And there was no inspirational teacher, Billy Elliot-style, who spotted a talent and nurtured it. In fact, it was quite the opposite, for after being 'lively and interested' at primary school, something happened in his teens. Bourne explains: 'Although I was doing a lot of amateur dance, there was something about going to a class, particularly a ballet class…it wasn't something I wanted other people to know about – I didn't want the other boys in school to know I was doing a ballet class. There was still a lot of prejudice.
Although I did belong to local performance companies in east London I would turn up after the warm-up. Somehow I equated it with something I shouldn't be doing. 'When puberty hit I changed quite a lot – all my passions were outside. I went to an all-boys' school at 14 and the things geared towards boys weren't of interest to me. Even history which I quite liked was all about war – I was much more interested in the kings and queens. The school was not strong on the arts.'
So clearly the artistic talent and vision is innate and from the heart: the young Matthew would gather together a company and put on shows to his family; later on he would spend hours and hours watching film, and immersing himself in watching and reading about performing arts.
He says: 'Acting got ruled out around my early teens as I didn't like speaking or using my voice; I was quite shy at that point. Earlier I'd been quite precocious. I became very interested in different kinds of dance – ballet and contemporary dance in my late teens. I became interested in the history of dance, I began to read a lot, and see a lot in London. I'd go three or four times a week; it became my life, a big obsession.
'When I left school at 18, I had various jobs around the theatre – filing at the BBC, I was working with Keith Prowse, in the National Theatre bookshop and ushering. I met someone there who was also an usher and my age who was in his first year at the London Contemporary Dance School – he'd done an amateur production of West Side Story and got into dance and was there training. And I thought, 'I should be training too' I don't know why I didn't do it earlier.'
He never looked back; a 14 year career as a dancer followed leading to the formation of his company first named Adventures in Motion Pictures and then shortened to the simpler New Adventures with co-director Robert Noble in 2002.
The revolution in dance had begun – now we have Bourne's productions it's a wonder dance had not been looked at in this immersive theatrical way before. Defining what his shows actually are is still a vexatious subject.
Bourne says: 'All dance is theatre, it is performance: our work is both dance and theatre. For many people, ballet is tutus and pointe shoes, that traditional classical thing; to others, ballet is a story told through movement and music. Some people refer to my work as ballet which puts off people because it's not that really. Other people will say, 'this is the first ballet I've seen and I really enjoyed it'. I'll just go along with it. The labelling of it is rather difficult.
'For Shakespeare, the script is the words; for ballet, music is the script – that's the thing you're interpreting. A classical ballet company is also maintaining the choreography from the original because they are restricted to showing what it is. It's of the past.
'We've got enormous freedom.' This is demonstrated through his storytelling. An old fairy tale like Sleeping Beauty for example is open to interpretation he says. Because the story and ballet music is out of copyright, directors are able to play around with it. So for Bourne's Sleeping Beauty is turned into a gothic romance.
For his current tour of Lord of the Flies it was a different story. Bourne was trying to find a theatrical 'way in' but came up against the William Golding Estate, which places strict guidelines on how the classic novel can be produced. He explains: 'You have to follow the book, the characters have to be the characters, the book has to be followed chapter by chapter, there are to be no girls in it, it had to be an all-male cast.
'But it was good to have that framework. For me it was trying to give it a theatrical basis because we are telling it in a different medium without words. Judy Carver, Golding's daughter, got on board with it and understood we'd have to do it differently because we couldn't say things. Setting it in a deserted theatre, locked in during a time of civil unrest going on outside, the island of the book is conjured up in the imagination of the boys. It's massively helped by great lighting of course and Terry Davies's new score gives the piece heart; something the book doesn't have.'
Lord of the Flies came out of a commission in Scotland to involve young boys and young men from that area that hadn't been on stage.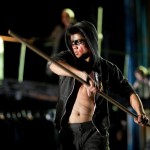 He explains: 'The original programme was aimed at disengaged boys; their journey was massive and they ended up forming their own dance group which is still going on. We decided to try to hold on to that – having 24 local boys in each performance. Some of them haven't danced before, some have, some are toying with the idea of going to dance college so there's a range now.
'We're looking for passion, and an ability to learn the show in quite a short space of time. In each town we have two dance ambassadors who help us find the boys and train them up before we get there. We have two resident directors who work with the boys then the nine professional dancers turn up and rehearse with the boys for a week. We'll have two tech days … and then I turn up at the end! I love it – it's one of my passions as I've got older to encourage young people to get involved with dance and choreography.'
Alongside this tour is the production of Edward Scissorhands, a Bournesque version of the Tim Burton gothic fairy-tale. But of course it is more than just a stage version of the film. Bourne has added a new back story to explain how Edward got his hands. Why? He says: 'I always want to ask questions. I wanted to know why and how he was created so we created this scene of the little boy being struck by lightning holding these scissors.
'Although I was doing an adaptation of a film, it was a translation without words into a stage production. When people come to see it they think they are seeing the film on stage but it's completely different – there are only two little scenes that are in the film.'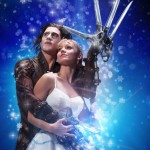 Bourne succeeds in bringing his tales alive without words. Familiar stories, familiar music with the whizz, bang, pops of modern theatrical production is clearly succeeding in opening up the world of ballet and dance to new audiences.
It's a revolution that other companies are taking up and made Bourne an influential part of the dance industry. Bourne says: 'It's about people trusting you – even though they don't know what the production is going to be, they trust you to give them something they're probably going to like. I'm in the middle of dance and theatre so I'm not really part of any world. I've always been a bit of an outsider.'
But he is an outsider who is helping revive an industry and won a clutch of national and international awards along on the way. 'We employ an enormous number of young people, creating a lot of careers, because we tour and perform a lot. We're employing 80 dancers this autumn. Through Lord of the Flies and Re:Bourne our charity, we're doing a lot of projects and workshops and now there is my choreography award – a gift for my 50th birthday from friends and colleagues.'
So the enthusiasm for work is not fading? 'I love pleasing audiences; it never feels boring; I love having a company and I love developing in talent in that company. Although the age gap is getting bigger; it keeps you on your toes. Yes we are working on something new, but I'm not allowed to say anything. I always get told off for saying what we're doing next, so I'd better not!'