David Troughton, currently playing the eponymous Mr Tom, took time out during rehearsals to chat with SUSAN ELKIN about his extensive career – from Exeter to Ambridge via Stratford.
I catch David Troughton, 65, in a break between rehearsals for Goodnight Mr Tom. We're at Open Air Theatre in Regents Park just before the move down to the Duke of York's Theatre for the West End Christmas run. A mix up over the booked room means that we end up sitting at an outdoor bench in the nearby café while David eats his lunchtime sandwiches and I drink some welcome hot tea. It's all suitably informal for a chat with a man who, successful as he is as an actor, doesn't do airs and graces.
So how are the rehearsals going? "Very quickly" says David explaining that although he has worked with children before he's never been in a cast with quite so many of them. "There are three sets of child actors because of the rules which mean each of them can do only three days a week, so we have to rehearse everything three times" he says cheerfully, recalling that he has known Michelle Magorian's novel for many years because he used to read it to his sons, Sam (now a successful actor), Jim (former captain of the Warwickshire cricket team) and William (another successful actor.)
"It's a novel which turned children's fiction on its head" he says. "The mother is mentally ill, very dangerous and a long way from the traditional caring maternal figure. Tom Oakley, my character, is a rough old man, still devastated by the loss of his wife and baby forty years before. He has the memory of holding a dead baby in his arms. Then all those years later he rescues Willy who is also holding a dead baby." David adds: "Michelle Magorian has written a short "back" story about Tom and his wife Rachel which she brought in to share with us and I found it very helpful."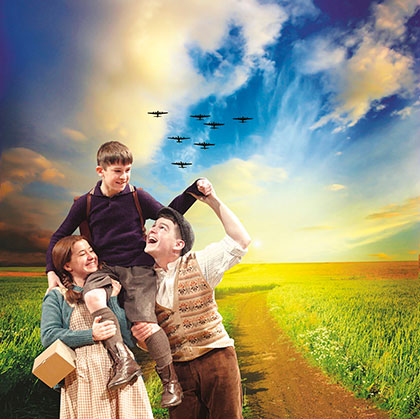 Oliver Ford-Davies played Tom Oakley in the two earlier runs of Goodnight Mr Tom but he's currently in the RSC's Henry V as Chorus. David, who hadn't seen the play before he was cast in it, is sanguine about stepping into those shoes. "I've played enough Shakespeare roles to know that you are almost always following others and that comparisons will be made. It's fine and part of the job" he says.
David Wood, who adapted the text as play, has suggested that Goodnight Mr Tom isn't really a children's show because it appeals to people of all ages. David Troughton isn't sure about that. "It's structured very simply and filmically in order to make it accessible to children" he counters. Either way he's delighted to be in work for the next six months. Goodnight Mr Tom tours nationally – eight shows a week – until the end of May. "And by then it will be the cricket season" he says, the piercing Troughton eyes, inherited from his father Patrick of Doctor Who fame, lighting up.
So how did it all start? "I suppose it's in the genes although I didn't live with my father. He left us in 1955 but we still saw plenty of him" says David who has two siblings and three half siblings. There were thoughts of university to study industrial revolution history but he wasn't truly drawn to the prospect of three years in an institution and more exams. "Anyway I really wanted, desperately wanted to be a stunt man" he says cheerily.
So he wrote to Tony Church who gave him a job at the Northcott Theatre in Exeter. "It was the only time I ever used my father's name as a way in" says David who did a year as a student assistant stage manager at £5 per week in 1969. Then came a year as an acting ASM which enabled him to clock up the 40 weeks of experience he needed in those "closed shop" days to qualify for an Equity card. "Finally I did a third year as an actor in the company" says David who regards those three years at Exeter as his training.
The next step was working for Caryl Jenner, the founder of Unicorn Theatre, when it operated at the Arts Theatre long before it acquired its current building on Tooley Street. "Caryl was a Stanislavkian who made us research the back stories of, for example The Dong with the Luminous Nose" which David recalls with a grin, but adds that it was a useful discipline. Judging from the discussion we've just had about Tom Oakley's history, he is still applying it.
Did someone mention Shakespeare? I've seen David in RSC roles many times including playing Richard III, Henry IV, Bolingbroke and more. When I remind him of these he tells me that playing Caliban in The Tempest (which I also saw) was a real turning point. "It taught me that the words, the poetry, will do the work if you let them" he says. "Of course you have to act the role you're in but the programme tells the audience who you are so they know what to expect. Your job is to speak the words so that they communicate" declares David, telling me that the two things he enjoys most in the theatre are talking directly to the audience and corpsing. Then he tells me a funny story relating to Tony Church's wind problem during corpsing incidents on stage back at the Northcott in a play about the Monmouth Rebellion.
Like many actors, David is good at funny stories because, obviously, he can do the all the accents. His Prince Charles voice – a story about how the royal body guards might have shot David to defend HRH if they hadn't briefed themselves by seeing the play two weeks earlier – is perfect. He's fun to talk to and that, he says, is a key part of his work too.
"Of course you have to be serious about your work but you've also got to enjoy what you're doing and have fun."
"My father bantered about not liking theatre deeming it 'just shouting in the evenings,' but the truth was he was utterly terrified. He was a perfectionist and actually took it all too seriously" says David. "Of course you have to be serious about your work but you've also got to enjoy what you're doing and have fun." We smile together about his role TV role as Bob Buzzard in Andrew Davies's A Very Peculiar Practice (1986-1992). "It was a show ahead of its time and Bob as the doctor on the make was a Thatcherite new man but few people could see it at the time" he says, joking that he dyed his hair black for two years for the role and it probably speeded up his balding.
The work with the RSC – and great directors such as Michael Bogdanov and the late Stephen Pimlott – led eventually to David's being made an Associate Actor of the RSC. I ask him what that actually means. "It's a loose agreement that they like your work and would like to invite you back for more and that you, for your part, would be happy to work with them again" he explains, adding that it's also an honour. "Although Michael Boyd, then RSC director, may have debased it a bit by creating forty new ones at once" he says ruefully. It doesn't stop him being proud though, that he and his son Sam are the only father and son pairing on the list.
He is clearly a man concerned that the acting profession shouldn't be flooded with indifferent talent too and laments the passing of the old regime which meant he had to work 40 weeks on the boards to qualify for an Equity card. "There's a sense now that anyone can be an actor" he says, seeming to agree with me that drama schools are training far too many for the jobs available. "They seem to be good at teaching some things but there's too little emphasis on stage craft, on starting from the bottom and watching other people work" he opines.
In 1985 David and his wife Ali moved to Stratford and they now live in a village to the south of the town. Ali is a former actor who works as a facilitator, running workshops. "It's one of the reasons I like working with the RSC. I can live at home" he says. It must be handy too for recording at Pebble Mill when he's recording for The Archers in which he plays Tony Archer, I suggest. "Yes. That's an occasional week or so's work to record five weeks of episodes but of course you can go for quite long periods when you're not included in the storylines."
Many school parties will come to Goodnight Mr Tom both in London and on tour because teachers, like parents, tend to favour plays based on books they're read or heard of. And of course David is totally convinced of the value or the arts, especially, drama in education. "My wife Ali runs workshops and repeatedly finds that it's the participants with 'behaviour problems' who discover, possibly for the first time in their lives, that drama is something they can actually do so they succeed and the confidence that builds transfers itself to other things" he says. "And when children and young people come to the theatre, especially to something as powerful as Goodnight Mr Tom, they learn that it's fine both to laugh and to cry". David believes that there is too much curriculum emphasis on narrowly focused academic subjects and the passing of exams in schools.
And with that, this charismatic and entertainingly forthright man shakes my hand (his is much warmer than mine after 45 minutes outdoors in November) and strides away back to his afternoon rehearsal.