Image: Levi David Addai
By Lesley Finlay
Just how do you make Martin Luther King and the Civil Rights movement relevant to young people today? You call in up-and-coming playwright Levi David Addai and voila! job done. I Have A Dream was specially-commissioned by the Polka Theatre to coincide with Black History Month.
Levi tells the story of the birth of his first play for young people: 'Polka were interested in doing a piece around the influences of speeches, as well as working with an idea around Black History Month with Martin Luther King. Obviously, in terms of speeches he's one of the most celebrated and iconic speakers, everyone knows him. They wanted to think about how to introduce this to younger audiences, and cover the whole educational thing of speeches and confidence, speaking out and vocalising their thoughts. So that was the start of it and it was a question of how to get in – how to explore Martin Luther King and the whole Civil Rights movement, and to find a way for it to be contemporary, so that young people in this country could find some resonance in it.'
I Have A Dream… tells the story of 11-year-old Raheem whose mother teaches at his school. For this reason, he becomes disengaged. His mother tries to encourage him by telling him stories about King, her big hero, but to no avail. Raheem falls asleep and goes back in time, ending up in King's house in 1963 where he meets the activist's eldest daughter Yolande, who shows him, through a time-travelling journey the importance of the Civil Rights Movement, how it all began and how it links with British history.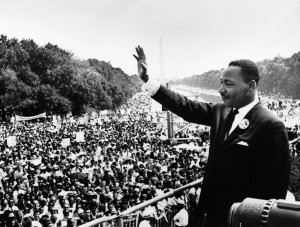 Image: Martin Luther King's speech is the inspiration for Levi's play
Levi, who will be joining rehearsals in September to support the Polka's artistic director Jonathan Lloyd, said: 'I'm pleased with the play. It took me back to my education and what I learned in school. A lot of stuff I did learn was about America particularly around Civil Rights issues, but I used to think – what about Britain, where is black history in Britain, where was the civil rights movement here? It was interesting to see how I could make it relevant – and I did this through the main character, who is British and will have the same views about relevance as other young people today. It's a challenge to get them interested so they can find their own inspiration from the stories, help them achieve their dreams.'
Researching the history was an interesting journey, providing surprises for Levi. He said: 'Yolande takes Raheem back to the 1700s and 1800s, when there were black people around in politics and journalism, ex slaves who came good. These people set the ball rolling for the 1900s. This was what I wanted to bring out – that it was much more than Windrush, it was much more than complex than that – Afro-Caribbeans have resided in Britain for many hundreds of years.'
The play demonstrates how far Britain has come from the dark days of history, when groups were excluded and discrimination was rife and open. Levi demonstrates this through his central characters. 'If you think about it, it wasn't that long ago when certain people didn't have certain rights. In the play, Yolande can't believe the things Raheem can do. He's living in a time where whatever he wants to do, he can do it. And she shows him how far they've come, and how fortunate he is to be born in this time and not to take advantage of it.'
Levi grew up in Lewisham, South London, of Ghanian parents who were care workers. Of his childhood, he says: 'I guess I was self-assured about what I was doing even though there were the influences in school – in the teenage years. I started writing at Brunel University – I was given the chance to write a play and that was it.'
He won praise for his work at the Royal Court Theatre, where his plays Oxford Street, and 93.2 FM won critical acclaim. His recent work on television included Micah, a wry play in Channel 4's Coming Up series.
He has mixed feelings about Black History Month – aware of the danger of isolating black history, yet also conscious of informing people about it. He says: 'Black History Month is important if it's done right but how many people know about it outside of school or government or council-funded areas? It's important because it allows schools to use their time to promote this part of history that is not necessarily on the curriculum. But all in all it should be part of the mixture of what our country is. It's good to educate people who don't know about it – not pushing aside other history – but to introduce a history that is seldom spoken of, to remind new people
of stories.'
Levi is playing his part in this – and hoping that I Have A Dream goes some way to achieving this – and the Polka's – a goal.