In March the axe finally fell on hundreds of arts organisations. Arts Council England had its budget cut by 30 per cent – its grant from the Department of Culture, Media and Sport, was chopped from £449m to £349m, and on that grim day, 206 arts delivery organisations found out they had lost their total budget. With one dramatic hit, theatre companies, art galleries and even the massive Creative Partnerships programme were closed or forced into a battle for survival. The DCMS was told to cut spending by 24 per cent, and while other departments face bigger cuts, the impact on employment, the creative industries and enriching education may be larger.
Trestle Theatre Company was one such organisation that lost its funding. Its artistic director, Emily Gray, told Ink Pellet: 'Earlier this year, when the government made its cuts in culture there was a flutter of dissatisfaction soon overtaken by news of cuts in 'essential' services. The arts companies without guaranteed future funding had to face closure or, as in Trestle's case, hone to its strengths and cut back public output for the time being.
'The downside to the funding cut by the Arts Council means that Trestle will be unable to run Trestle Arts Base in St Albans at its current capacity. Over the past decade the venue has inspired all ages at local and international levels. We have decided that in the future the base will focus its activity mainly on young people and emerging artists, aged 11-25.'
Clearly, organisations like Trestle are making tough decisions, but this is a necessity if they are to survive.
Emily explains: 'For the past 30 years, Trestle has developed masked storytelling theatre, unmasked physical theatre, education and training programmes and community arts projects. Now it plans – without Arts Council funding – to continue to offer a service for young 11-25 year olds in non-text led creative activity.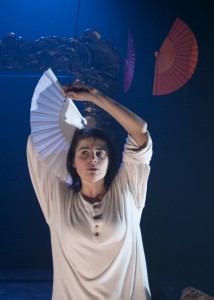 Image: Georgina Roberts in The Birthday of the Infanta
'This means we will run workshop programmes to introduce and develop mask and physical theatre technique and give pupils the opportunity to create devised storytelling pieces. In addition, we offer mask sets, which are used across the world as an educational and performance tool in drama and English teaching, therapy and social services. Finally, we provide INSET in teaching mask and physical theatre at centres across the UK and abroad.'
Meanwhile, Trestle has been working hard on forging new collaborations. First up is an exciting youth project. Emily says: 'We are working at Hornsey Road Baths, a beautifully refurbished building in Islington, in which a cross art form participation and performance programme Platform, is being developed by young people aged 13 to 19. Trestle will initially lead on the arts programming, but the aim is for the centre to become youth led.'
But it is the public performance strand of the company's work that is taking the biggest hit. Emily says: The Company's last touring show, for the time being, is The Man with the Luggage; beyond that we will not have the resources to make and tour two new productions a year, but will instead concentrate on collaborations across cultures and art forms. Forthcoming projects include Unicorn's Indian Snow Queen,
www.unicorntheatre.com/snowqueen (winter 2011) and Increpación Danza's www.increpacion.com version of The Birthday of the Infanta (in Spain, spring 2012).
'Of course our efforts to make new work will never disappear. Our hope is to develop new ways of working with professionals and emerging artists to produce performance work with and for young people both live and on-line with active school participation and interaction.'
Image: Trestle Theatre Company
Tags: Arts Council, Arts Council England, arts cuts, Creative Partnerships, Department of Culture, Emily Gray, Hornsey Road Baths, I Value The Arts, Ink Pellet, INSET, Islington, Media and Sport, Platofrm, Snow Queen, St Albans, The Birthday of the Infanta, Trestle Arts Base, Trestle Theatre Company, Unicorn Theatre