To Ink Pellet's own Ode To Autumn, the season of mellow fruitfulness and…err..,poetry. October has been designated National Poetry Month, an honour it shares with Black History Month – both specials being imports from our friends across the pond, did you know? Still, our ambassadors of this increasingly popular and accepted art form have been busy judging competitions and launching competitions …so here goes! It was buns for tea in the Burville-Riley household in Kent earlier this month when young Jennifer from the Weald of Kent Grammar School won the John Betjeman Poetry Competition for her poem Saint Wyllow's Bridge. (Visit www.betjemanpoetrycompetition.com to have a read of this mature piece.) The judges, Brian Patten and Angela Huth, chose four highly commended poems and shortlisted three young poets for the award. The runners-up were Daisy Adams, aged 12, for her poem Bath and Dualtagh Grundy, aged 10, for Museo Archelogico Napoli.
Meanwhile, 100 young people were honoured at the Foyle Young Poets of the Year ceremony at the Royal Festival Hall.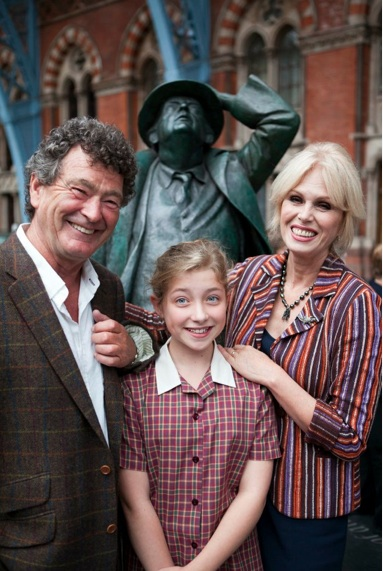 Poets Imtiaz Dharker and Glyn Maxwell selected the 15 overall winners and 85 commendations, and were particularly struck by the unflinching way these young poets explored their world. Meanwhile, SLAMbassadors UK continues its search for young performance poets and is open to young people aged 12 to 18. The theme of this year's competition – which closes for entries on December 9 – is 'identity'. See www.slam.poetrysociety.org.uk.
For pure enjoyment of wonderful words check out the new audiobook by Polish poet Czesław Miłosz. Read by Stephen Fry the work has been translated by poet and writer Adam Zagajewski. The audiobook forms part of the Cultural Programme of the Polish Presidency of the EU, and commemorates the hundredth year since the Polish poet's birth. Milosz won the Nobel Prize for Literature in 1980. Listen in at www.culture.pl/web/english/czeslaw-milosz-full/-/eo_event_asset_publisher/HPh6/content/stephen-fry-recites-czeslaw-milosz-audio-recording
Art is all around us – and if you are in Birmingham, it's even on a canal boat! A three-year project involving the Ikon Youth Programme will be using the good ship Aaron Manby to showcase exhibitions discussions and events. Called Slowboat, this is a three year project with a host of events for all to enjoy. Sail on to the website at www.ikon-gallery.co.uk, where you will also find details of John Myers' photographic exhibition Middle England, featuring portraits of those living around Stourbridge in the early Seventies. Take you back that will!
Guyanese poet Maggie Harris has published her first piece of prose – the Kiskadee Girl, a memoir of her own life and fascinating ancestry. She says: 'My mother's father came from Scotland, her mother's family from Madeira, my father's ancestors from Africa. I began to wonder how many children of migrant parents were losing out on their ancestral culture.' Good point. The book is available from bookshops – on the high street and on line.
Tate St Ives is welcoming visitors to The Indiscipline of Painting, an exhibition that explores how the history and works of modernist abstract painting continue to inspire artists today. Works featured by Gerhard Richter and Andy Warhol should bring in the crowds. Up the road in London, Tate Britain shows the Early Works of Barry Flanagan – he of Leaping Hare fame. This retrospective covers his early work of earthy sculptures, ceramics and wall hangings. Intriguing and challenging.
There is just time to put on your dancing shoes for a night of fun with Zoonation's Some Like It Hip Hop at the Peacock Theatre, London while on the other end of the scale, the bad boy of rap known as 50 Cent has turned his talent to writing – and so we have Playground, the story of Butterball who is teased about his weight but beats up a book-loving student. As a result he ends up visiting a therapist to talk about it – but will he? I'm expecting a review copy to land here any day now. Look out for our verdict next time.
It is time to synchronise diaries with two events next year. Chawton House Library is hosting a conference on The Language of Women's Fiction 1750-1830 in February, just one of the academic events held at the former home of Jane Austen.Worth a peep. For those of a more low-brow nature, book your place at The Education Show, where you might just bump into the small, but perfectly-formed Ink Pellet duo! The information fest takes place between March 15-17 at the Birmingham NEC. Book at www.educationshow.com.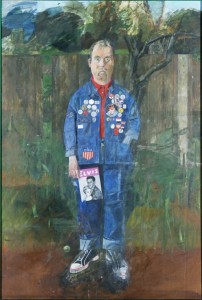 Image: Peter Blake Self-Portrait with Badges 1961 Oil on board © Peter Blake All rights reserved DACS 2011
Art is for sharing – we all know that – but how do you ensure your students make the most of the latest exhibitions? You check out the online offering. Turner Contemporary, the new gallery in Margate, is making a big noise in its corner of Kent with its second exhibition entitled Nothing in the World But Youth, a total assault on the senses using visual arts, photography, installations, film and music to celebrate and explore the lives of young people.
Following the launch this month, one visitor described the exhibition as 'Mental!' This was a compliment but aptly sums up this comprehensive and sometimes sensitive exploration of youth culture.
Curated by the gallery's head of learning Karen Elsea, exhibits include works by Henry Moore, Peter Blake and Andy Warhol, as well as works by Turner made in his youth. The work of Julian Germain particularly stands out. His work Classroom Portraits features photographs of young people juxtaposed with graphs about their thoughts and feelings about life. This would be a great school project for you to share.
In order to spread the love with those who cannot make the trek down to Margate, the gallery offers top class resources that are free to download. Artist Jan Wheately worked with local youngsters to produce A Teenager's Guide to Nothing in the World But Youth, a tour of the exhibition in comic style. The exhibition is divided into four main themes which could be explored in class across a broad range of subjects – the Secondary Resource pack will inspire you to explore them as a project.
To download for free visit www.turnercontemporary.org.
Tags: 50 Cent, Aaron Manby, Adam Zagajewski, Andy Warhol, Angela Huth, Barry Flanagan, Black History Month, Brian Patten, Chawton House Library, Czeslaw Milosz, Foyle Young Poets of the Year Award, Gerhard Richter, Glyn Maxwell, Guyanese poet, Henry Moore, Ikon Gallery, Imtiaz Dharker, Jan Wheately, Jane Austen, JMW Turner, John Betjeman Poetry Competition, John Myers, Julian Germain, Maggie Harris, Margate, National Poetry Month, Nobel Prize for Literature, Nothing In The World But Youth, Ode to Autumn, Peacock Theatre, Peter Blake, Playground, Poetry Society, Royal Festival Hall, SLAMbassadors UK, Slowboat, Some Like It Hip Hop, Stephen Fry, Tate Britain, Tate St Ives, The Education Show 2012, The Indiscipline of Painting, The Kiskadee Girl, Turner Contemporary, Weald of Kent Grammar School, Zoonation