What an opportunity youngsters from the Wales Millennium Centre Only Kids Aloud Chorus have! They will travel to South Africa to take part in the country's year-long cultural celebrations: 20 Years of Freedom – South Africa 1994 – 2014 in May. The chorus will perform a new commission by Welsh composer Paul Mealor which includes a favourite poem of Nelson Mandela, Invictus, at two concerts in Cape Town. The youngsters will be joined by Classical Brit Award winner, Bryn Terfel. Composer Mealor's commission for Mandela is called Spirit of Hope. Ink Pellet will be following @onlykidsaloud. That's twitter you know.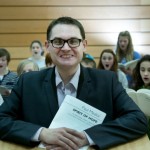 In the spirit of looking and planning ahead, Ink Pellet draws your attention to the 2014 Family Arts Festival which runs from October 17 to November 2. Now in its second year, it brings together six national arts organisations to offer families across the country a chance to enjoy high quality art; and to inspire them to develop a lifelong interest in the arts. There will be around 2,000 to choose from in 500 venues. Organisations are urged to sign up to the website www.familyartsfestival.com to submit details of their event which include circus, dance, literature, music, theatre and visual arts. The Festival has teamed up again with The Big Draw, which offers thousands of drawing activities. Further details about the 2014 Family Arts Festival will be announced in mid-June, with the final details and full programme available by early September.
If you're taking the air in the South West this summer, or are fortunate to live there, then pop into Tate St Ives which is taking another look at St Ives art to celebrate 21 years of the gallery. International Exchanges: Modern Art and St Ives 1915-1965 explores the wider national and international their journey at contexts which shaped art in St Ives in the 1940s, '50s and '60s. The work has generally been analysed and praised in relation to its use of landscape and nature. This exhibition turns the tables and will look at it in relation to what was made, how it was made, and its position in a wider international modern art. St Ives featured two branches of modern art: the international movement of constructivism and the tradition of craft and the handmade. So whose work will we see? Well there are the carvings of Constantin Brancusi and ceramics of Bernard Leach alongside Patrick Heron, Mark Rothko and David Hockney. The exhibition opens on May 17 and will go on national tour from October 24. Keep up at: tate.org.uk/stives.
Ink Pellet suspects that more adults are likely to attend Here's One We Made Earlier, a celebration of BBC Children's programmes past and present. This is the biggest ever exhibition at The Lowry and opens on July 19th. The exhibition will explore the complete story of more than 90 years of BBC Children's output. Local children are helping to curate the show where visitors will be able to peep behind the scenes, have a go at presenting and try a range of hands-on activities. Details from: www.thelowry.com
For the dancers among you, check out the vibrant StreetFest in London where you might be able to 'get down with da kids'. [So sorry.] Now celebrating its 7th year, StreetFest presents the best of British street culture including painters, performers, dancers, skaters and graffiti writers, all in one place. For more information visit: www.streetfest.net
On the other end of the dance scale in terms of geography and style, Ink Pellet brings news from the brilliant Yorkshire Dance. It asked the public to vote online for two of six shortlisted dance works to be commissioned. Robbie Synge and Hagit Yakira were chosen. Synge will created Douglas, a solo inspired by Robbie's own work outdoors at his home in the Highlands of Scotland. See the intriguing trailer at http://bit.ly/1g9zWar. Yakira's Air Hunger is in complete contrast, exploring an audience's response to witnessing breathlessness (http://bit.ly/1gM8JjN). The two artists will present parts of their new works while still in development online at respondto. org inviting feedback. Hagit said: 'I want to find a way to invite differently.' Join www.respondto.org/contact/
Chrissie Gittins has created her first collection of poems for children covering almost two decades of her best work. It will appeal to anyone who loves words and what they can do and is ideal for the new curriculum requirements for reading, learning and reciting poetry. Lancashire-born Chrissie's poems have been animated for Cbeebies TV and are widely anthologised. Her poem 'Death in the Poetry Library' features on the Southbank Centre audio tour. Published by A&C Black.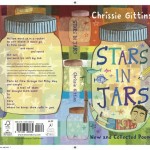 Sticking with poetry: do encourage your young bards to enter The John Betjeman Poetry Competition for Young People. Children are invited to send in (by post or online) a poem on the sense of 'place'. Great prizes – including £500 for the winner's English department as well as four Eurostar tickets. Winners are invited to read their poems aloud to an audience of judges, entrants, teachers and parents as well as sponsors and press, at a prize giving held on National Poetry Day on October 2nd, on the concourse of St Pancras station, next to the bronze statue of John Betjeman by Martin Jennings. The judges are Gillian Clarke and Nell Gifford. Entries in please by July 31st. Head for www.betjemanpoetrycompetition.com to do so.