The Oxford Dictionary of National Biography celebrates its 10th anniversary with a special update on those who left their mark on British national character, heritage, pastimes, and manners.
This new edition adds biographies of 119 men and women active between the prehistoric era and the early twenty-first century including: Sir Cecil Chubb (1876-1934), who in 1915 bought Stonehenge at auction for £6600 and gave the site to the nation, in 1918; Doris Arnold (1904-1969), Britain's first female disc jockey from the late 1930s, best known for her long-running BBC programme, Those You Have Loved; Henry Poole (1814-1876), Savile Row tailor and creator of the dinner jacket (or tuxedo); Dame Frances Farrer (1885-1977), the longest serving general secretary of the Women's Institute who led its members in wartime jam-making.
The Oxford Dictionary of National Biography is the national record of men and women who have shaped all walks of British life from the Romans to the 21st century. The dictionary is updated three times a year with new biographies.
The next update will be published on 8 January 2015 and will include biographies of 233 men and women who died in the year 2011. The Oxford DNB online is freely available in public libraries across the UK. Public libraries offer 'remote access' allowing library members to log-in and read the dictionary online – at home or anywhere. For further details see www.oxforddnb.com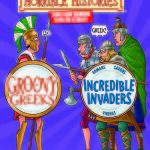 In direct contrast, two new Horrible Histories brought to you by the Birmingham Stage Company shows open next March. The Groovy Greeks and Incredible Invaders will be hitting theatres for twelve months before touring Australia, Hong Kong, Singapore, and Dubai. Incredible Invaders covers the Roman invasion of AD43, exploring the impact the Romans had on Britain, from roads, place names and towns.
Invasions by the Anglo-Saxons and the Vikings are also covered. Groovy Greek starts with the Mycenaeans, and features the Trojan horse, the difference between growing up in Sparta and Athens and the fi rst ever Olympic Games. The tour opens in Horsham in April. For details of dates, venues and to book, visit www.birminghamstage.com.