The Classical Road Show organisation has given many thousands of children in London and the Home Counties exceptional musical experiences through its innovative concerts and workshops, and this year's big concert experience project takes place on June 8th at the Fairfield Halls, Croydon. The project is an interactive hour-long concert for junior schools with live orchestra, narrators/singers and stage choir. The stage choir is usually pulled from a local primary school and performs on stage with the orchestra. The premise is that attending schools receive an education pack with songs and accompaniment on CD, and the class teachers teach the songs to their pupils, and they participate/sing from their seats in the auditorium on the day. There will be a morning and afternoon performance, and the piece performed will be The Battle of Trafalgar by David Lyon and Teresa Collard. This year it is also set to include dancers from the Central School of Ballet. Previous shows have included Zambezi Tales and Dreamtime Tales by Richard Brown and Nigel Williams. For more information go to: www.classicalroadshow.org
Pegasus is presenting the first ever production of Zizou Corder's book for young readers, Lee Raven Boy Thief, from May 20-23. Set in the future after petrol has run out, it tells the story of Lee, a pickpocket, who unwittingly takes possession of the most amazing treasure the world has ever seen and many would kill to get it. The book has been adapted and directed for the stage by Angharad Arnott Phillips for a young cast from Pegasus Youth Theatre, Magdalen Road, Oxford. Should be good! More details at: pegasustheatre.org.uk 
The CILIP Carnegie Medal shortlist is an eclectic mix as ever. Could Patrick Ness break another record by winning another prize? His More Than This could be his third. Competition is fierce, however. The shortlist features: Geraldine McCaughrean's story set in the Australian Outback The Middle of Nowhere; Tanya Landman's Buffalo Soldier, set during the American Civil War; The Fastest Boy in the World by Elizabeth Laird about an Ethiopian boy who dreams of being a gold medal winner; Frances Hardinge and her mystery tale Cuckoo Song; Sally Gardner's Tinder a journey of dark magic and mystery; Sarah Crossan's Apple and Rain a bittersweet tale of a returning mother, and When Mr Dog Bites about a young Tourette's sufferer by Brian Conaghan. The winner is announced on June 22.
From new to a musical theatre classic in the shape of Jesus Christ Superstar, Tim Rice and Andrew Lloyd Webber's ground-breaking rock opera. It heads to Sheffield's Lyceum Theatre from April 20 to May 2. The show stars Glenn Carter as Jesus and gives hope to runners-up of TV talent shows – giving two roles to X Factor finalists – Welsh baritone Rhydian Roberts as Pontius Pilate and Rachel Adedeji  as Mary Magdalene. Book now at: sheffieldtheatres.co.uk 
Plans for the Manchester International Festival are coming along apace and we spied this highlight: a reprise of Caryl Churchill's The Skriker directed by Sarah Frankcom and starring the brilliant Maxine Peake. The play is classic Churchill – a collision of ancient fairy story and portrait of a fractured England in which two sisters meet an extraordinary creature – the Skriker – a shapeshifter who has come from the Underworld to pursue and entrap them, through time and space, through this world and their own. For details on this and other festival offerings visit: mif.co.uk 
A subtle battle of the sexes is taking place at Yorkshire Dance. The company, in collaboration with Compass Live Art, is welcoming back to Leeds Wendy Houstoun, winner of the TMA Award for Achievement in Dance and the Critics' Circle National Dance Award for Outstanding Female Performance (Modern), on May 29 with her new work Stupid Women. The piece of live improvisation is based on tasks and ideas coming from both Wendy and the performers – a kind of organised mayhem. Initially performed as a work-in-progress at Yorkshire Dance's Juncture 2014 festival, and a tribute to the late and great Nigel Charnock whose piece Stupid Men annoyed most audiences who saw it, Stupid Women hopes to achieve something similar. Sounds fun. More details at: www.yorkshiredance.com Over 14s only.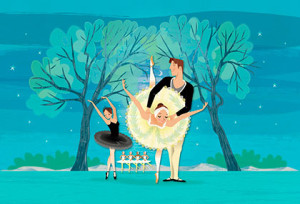 Finally, we love this tour of My First Ballet: Swan Lake, the re-imagined iconic Tchaikovsky ballet made accessible and enjoyable for audiences as young as three years-old. Adapted to one hour in length and with a narrator to help young audiences follow the story, it's the perfect way to introduce children to the magic of classical ballet. This is the programme's fourth year. Choreographer George Williamson, English National Ballet's Associate Artist, says: "I hope that everyone comes away from the production entertained but most importantly with a new understanding of how ballet can tell a story." The My First Ballet series is performed by second year students of English National Ballet and goes on a six week tour until May 23rd. For more details visit: www.ballet.org.uk  
IMAGE: © Mark Ruffle