Ruth Leon is a theatre critic who simply loves the musicals. Here she chats to Lesley Finlay about her interesting life…
There can be no doubt that the musical is the undeserving poor relation of theatre craft. Those in the know – teachers, performers, writers, directors and fans – are well aware that the genre is one of the most demanding of disciplines – musical performers need talent in singing, dancing and acting as well as a bucket-load of stamina.
The rise in talent shows to find leading ladies in the last few years coincides with a healthy round of new openings, as well as revivals. However, it is not for us to judge if such pieces as Mamma Mia, Birdsong and Legally Blonde will stand the test of time, theatre critic Ruth Leon believes.
And Ms Leon should know, for she spends most of her evenings in the theatre watching plays and musicals – and has done so for about half a century, often alongside her beloved late husband, the respected critic Sheridan Morley.
Even her expert eye would not presume to make such a pronouncement on any of the modern offerings. She says: 'Has there been a great musical in recent years? I think there has but we need the distance of history because along with all the elements, the music, the lyrics, the direction, the performances, there is also the other quality – the quality of lasting.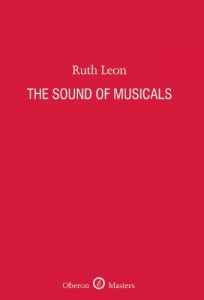 'Why do we still go to Twelfth Night? I must have seen my fortieth production this week so why would I go and see another one? But in every generation the great productions, the great performances and the great plays speak to the new generation, in the way that matters to them.
'As far as musicals are concerned, almost all of Stephen Sondheim's later musicals since Company are great, I think Sunday in the Park is great, and Passion is great. But it's not our generation that will judge this.'
Ink Pellet caught up with Ruth following the publication of her readable book The Sound of Musicals, a beautifully written narrative befitting a writer whose aim in life is to demystify 'theatre' and to make it accessible.
Ruth says: 'I was looking to give people a guideline to the musicals that made a difference. To me a great musical is right up there with King Lear, I don't believe the conventional, elitist idea that Shakespeare is great and musicals are popular rubbish. If you talk to an actor who has been in both they will tell you how hard it is being in a musical. It's pretty hard to do a bad production of As You Like It because the structure is so perfect. But it's not difficult to do a bad production of a musical because so many different elements have to come together and somehow even when all the elements are right it sometimes doesn't work.
'Jerome Robbins was a pig to work for but he was a genius of a pig. Leonard Bernstein said it went with the territory. "If you want Jerry, if you want the genius, you have to put up with what is absolutely insupportable," he would say.'
Ruth exudes enthusiasm for her subject and believes that as well as sharing all the 'required knowledge' like structure, what musicals are for, you need to give a sense of what it is like to be in the theatre when a great play or musical is performed. She explains: 'The great ones are somehow different. It's like the difference between talent and genius. Genius is immutable, you can't quantify it. Musicals are like that – it's either a great musical or it's not.'
So how did Ruth become the renowned critic and writer she is today? She grew up in London – near the swish Marylebone High Street where her parents had a dress shop. 'From the time I could walk I wanted to dance, wanted to sing, wanted to act. Nobody else in my family had any theatre background at all, it was most peculiar. I have an older brother and older sister and they were perfectly normal and I was mad.
'I went to Arts Educational, the theatre school, from the age of six, and from there went to the London Festival Ballet. It was then I realised I wasn't quite good enough. My parents were quite shocked by this. I was talented but completely the wrong physical shape. I was 16 and went up to Oxford because I couldn't work out what to do next…'
It was at this point that I had to stop Ruth in her garrulous track. 'You were 16 and went up to Oxford..?'
With great charm, and the politest of deflections she passes over my attempt to probe more. 'Why am I telling you this?' she said, with the confusion of one used to probing others, not being used to being quizzed herself.
Because it is interesting…?
'It was an accident,' Ruth says firmly. 'I had to do something and in some ways it's the least important part of my life.' Except it was where she first met Sheridan Morley, but as Ruth explains she learned much more from the real world of the fledgling television industry.
'I decided I wanted to make the arts available to the largest number of people so I thought television was the way to do it. I started at Granada and did whatever they set me to do there, first as a typist (as a girl did in those days) and then as a script editor. They taught me my trade.
'I went to America, married an American and had the most wonderful life, wonderful career. I became head of arts programming for the PBS network in Washington DC and then I started a little company producing arts programmes.
'I came back to England and married my husband [Sheridan Morley]. We met on my first day at Oxford but we were together for years and years in different ways for about 50 years. I came back because he was ill, he had a stroke and I realised that the transatlantic life we led wasn't going to be possible with a sick husband.'
Ruth has great admiration for the high standards in theatre today. She says: 'The rigour is still there in the great stuff, the perfectionism. The performers today are extraordinarily well trained, they can do anything. They have more stamina and are able to do anything.
'The girls who appear on the reality shows are in the most part very polished, although I don't care for reality shows an awful lot. I'm a member of the trust of Arts Educational Schools [Lord Andrew Lloyd Webber is President] and when I go to the showcases, these kids blow me away. We weren't nearly that good, we weren't in the same class.'
So from where did this love of the arts stem? Ruth tries to explain: 'I think it's because I had the advantage of living in the West End of London, of having a mother who gave me half a crown to go to the theatre on a rainy day. I had the advantages of parents who believed in talent. If you are lucky you will have one great teacher. Over and over again you hear people who have succeeded in the arts saying, "there was one great English teacher…" I had my parents.'
As a Visiting Professor at Kingston University, Ruth comes face to face with young people so she can share her knowledge. 'Visiting Professor! Yes, how grand!' she chuckles. 'I just talk! I talk about the theatre, about dramatic literature about the way the arts fit together. Students will absorb this like sponges but at a regular university you have to work a little harder because they are not sure if they want to hear about how drama gets to television, or the way in which Shakespeare's plays can be used in a musical.'
Kingston is special because she donated Morley's massive library to the university. She says: 'The Sheridan Morley Theatre Collection will give the university access to his wonderful resource which was 22,000 books, CDs, artefacts, letters, photographs and set designs. It is available to anyone who wants to use it – an actor working on a role or an academic working on a paper, or a kid with a school project. I wanted it to be available to anyone who wants to use it.'
And so, Ruth continues her mission to share her joy of the theatre with as many people as possible. 'The Sound of Musicals is the kind of book I always wanted to write. Books shouldn't be patronising, everyone should be able to understand them and take something from them. Readers might not understand specific references but they should be able to go away with an understanding on why musicals are so different. If you ever read one of my books and say, "what on earth is she talking about?" then Please send it to me and I will send you a cheque!'
Having read the book, I suspect her money is safe.
Publishers Oberon Books are giving our readers a 20 per cent discount for a short time only. To benefit, please contact Marston Book Services, quoting the discount code ONLEON11 on telephone number 01235 465577 or email direct.orders@marston.co.uk. The RRP is £9.99. Our offer closes on March 31st 2011.
A few of my favourite things…
Favourite contemporary play: Tom Stoppard's Arcadia
Favourite Shakespeare play: Much Ado About Nothing
Favourite Ballet: Coppelia, the first I ever saw
Favourite Opera: Don Giovanni
Favourite musical: Stephen Sondheim and the musicals in this book – Guys and Dolls, Showboat, My Fair Lady
Favourite book: I love the novels of John Irving
Category: Big Interview, Homepage, Sidebar
Tags: Arts Educational, As You Like It, Birdsong, Coppelia, Granada, Jerome Robbins, John Irving, King Lear, Kingston University, Legally Blonde, Leonard Bernstein, Lesley Finlay, Lord Andrew Lloyd Webber, Mamma Mia!, musicals, Oberon Books, Oxford University, Ruth Leon, Sheridan Morley, Sheridan Morley Theatre Collection, Stephen Sondheim, The Sound of Musicals, Tom Stoppard, Twelfth Night, West End Musicals