Images: Annabel Moeller
Life is physically tough and draining for performers and none more so than for ballet dancers. When I catch up with Shiori Kase, one of the budding stars of the English National Ballet, she is taking a breather at home in London in between performances of Strictly Gershwin in Wales and Liverpool. She says: 'I am feeling good. Yesterday I had a day off and today I am working half day so it's okay. I am working on Strictly Gershwin and it is a good experience. The show is a mix of everything – there is tap, there is ballet, ballroom, and there is singing too! It's like a Broadway ballet to Gershwin's music. This is a very different experience to what I am used to, but it has been a great experience to see the other performers and work with them. I am really enjoying it. Last week, I danced in Rhapsody in Blue for the show so it has been quite a hard week.'
Shiori has come a long way since her birth in Tokyo in 1982. Her father was a medical salesman while her mother worked part-time in local government. She has a brother who today is a keen basketball player. Shiori started dancing when she was just three. She says: 'Nobody in my family was a dancer – my mother wanted me to do ballet badly so she took me to ballet school. I just loved dancing. If my mum had the music on I just started dancing! My mother and I loved to listen to classical music and my brother was singing ballet music when he was quite young. It was quite weird. Now he just likes to play basketball!
'I trained at the Hirose Kato Ballet School, and took part in lots of competitions. As I was practising every day, I then started thinking about being a ballet dancer and how great that would be. When I was 12 I really started thinking that I could do this for a living. My training in Japan was really good but this wasn't a school like the Royal Ballet School. I was going to normal school during the day and then went to ballet class afterwards.
'When I was 14 I did the Youth America Grand Prix Competition in 2006 and then won a place at the Royal Ballet School. The move was really hard because I couldn't speak English at all. We had to cook by ourselves and I couldn't cook so the whole thing was really hard!
'I loved my time at the Royal Ballet School because I was dancing almost for the whole day. We still had academic classes but after this it was dancing, dancing! I could really concentrate on getting better so I loved every minute of it. I loved it.'
Shiori then had a big break at the time when all potential graduates of the Royal Ballet School take their first tentative steps towards a full time career in their art. The dancer knew that she wanted to stay in England and knew, at aged 16 or 17, she would have to find a job. She says: 'I was really lucky because Wayne Eagling, the artistic director of the English National Ballet, watched a class and he picked some of us to take class with him on stage. A few weeks later he told me I had a place within the Company. It's incredible. I am so lucky because some people have to travel throughout the country and take auditions everywhere. I'm so lucky.'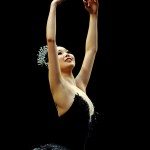 Her hard work has paid off and Shiori has had some memorable moments in her short career to date. She performed the Dancing Peasant pas de deux in Giselle and took part in the Northern Ballet Theatre's 40th Anniversary gala representing English National Ballet. While she has won many awards, one of the most coveted came this year in the shape of the ENB's Emerging Dancer Award, which recognises and nurtures the talent of its up-and-coming dancers. Six of the Company's most exciting young artists are nominated by their colleagues at English National Ballet – dancers, artistic, technical, music and administration – to compete for the title.
Shiori describes her shock and honour at winning the 2011 Award. She says: 'Winning the Emerging Dancer, I was so really amazed and surprised. I did not think it would be me. I just enjoyed dancing and it was enough to feel the performance went well, but to win was really, really special. I hope the award helps me win better roles and dance more! But there is a little bit more pressure – for example, in Rhapsody in Blue last week the other dancers are Principals and it is a big pressure to dance such a hard ballet, with such amazing people.'
As for the future, Shiori knows she will have to work hard to achieve her dreams of becoming a Principal dancer. 'In a normal day when I am in London I will wake at about eight then start rehearsals at 10 30 until about 12. Then we will work on whole show rehearsals throughout the afternoon, maybe with a break in between. I just feel as if I have to do it, I just want to perform. It is tough but all I think about is the performance and doing it well.
'I really want to be a Principal. I love to dance in the corps de ballet and love to do the principal roles. This takes time before you take that step and are promoted. It involves a lot of hard work!'
After Liverpool, the Strictly Gershwin tour heads for Milton Keynes. There is a 'break' for The Nutcracker at the Coliseum in which Shiori plays the Sugar Plum Fairy. She says: 'I am looking forward to playing the role! I called my parents and grandparents last week to tell them I had won the role and they are so excited and will come to see me. Then in the new year we have Strictly Gershwin for two weeks at the Coliseum and then it is holidays!'
Relaxation seems to be a foreign concept but when downtime comes Shiori can be found eating with friends – and sleeping a lot.
She is winning great plaudits for her work – a real dancer to watch, on stage, and in the future in which she dreams of playing Manon. Shiori adds: 'I would love to play the role of Manon. When I was in Japan I saw Darcey Bussell playing it and I loved it. It was the first time I had seen the ballet. I love the music, I loved the choreography and of course I loved her. And ever since I have wanted to dance the part.'
No doubt, her time will come.