There are exciting developments afoot in the National Youth Theatre as the Company creates its first full season with fifteen young stars. Here, PAUL ROSEBY, artistic director and CEO, explains what is going on…
There are so many options in the youth market for young people. But there has always been a challenge for creative programming in august when we have an abundance of youth and talent but not an abundance of audience.
Creating a company that's with us for 12 months means we can schedule outside the quiet times and also giving a unique learning opportunity for young actors in the company as well as a progression. It's also about celebrating the methodology of the rep. these actors are not just playing one part or three parts in one play, they are playing eight parts in three plays. For an audience to come and witness that diversity of talent and stretch is almost as thrilling as the plays themselves!
The principal of youth theatre is about doing it – not theorising it, and the only way you do it is in front of an audience, to give a company the opportunity to perform something over a period of time and to celebrate the principal of the rep is certainly good. It sounds like we've invented something radical but we're just revisiting. Ian McKellen said the best way he learned was in rep and there have been quite a lot of features recently about film actors not being able to cut the mustard on stage. A lot of our actors go onto film and it's the best platform for actors to learn how to communicate with an audience.
I've spent two weeks rehearsing Romeo and Juliet and there have been joyous moments when you think, 'Oh my God! the talent in this room is amazing!' There is an amazing commitment to hard work. There are three sessions a day for Romeo and Juliet, then after this there's the Prince of Denmark then Tory Boyz; they need stamina to do that amount of juggling.  There's nothing easy about being a working actor; there's nothing easy about being an out of work actor. The 15 actors chosen to form our company went through a very strict audition process.  They did two pieces of Shakespeare and modern, as well as a workshop. Those shortlisted had to face a panel [including Wendy Spong, the head of casting at the National Theatre]. It was quite intense and they would then have other speeches we might pull on during the audition. The process, of course, is fair and equal.  But we're looking for the watchable. I always say ban the bland! Would you watch that person? We always think about the audience when you're watching somebody audition.
Some drama schools won't allow participants to be part of NYT, which is a shame. Some of our members are already in drama school; some want to go, some don't want to go. Some even want to be doctors or teachers.  Two or three are already discussing they don't want to act but want to be directors. It's an eclectic bunch. We ask for complete and utter commitment from the Company during their time with us.  It's a free opportunity and in terms of an alternative to drama school it's cheaper – they get a bursary – but it's still tough – they still have to find extra support for their finances.
With something like the Rep, we knew our schedule and we knew the plays before we knew the talent. We knew there's a versatility among our actors; we knew we needed someone who was convincingly Juliet or convincingly a prince of Denmark. We need team players. We do have to reject when we audition for our national intake.  Sometimes parents will ring up asking why we didn't take their child and it's nothing personal. It could be a bad day or because we've seen this person so many times before.  On the audition panel we have an interesting debate; if you're going to be on the West End stage, you need to be able to communicate with the back of the stalls as well as the front two rows; and so we always look for truth in the performer.
There are tricks you can learn but it's mainly about voice. We give our actors an experience on how they can prepare themselves for a part; we're not precious about a particular methodology – it's for them to cherry pick what works for them. There's no right way to do it – it just needs to be convincing. They have to work hard!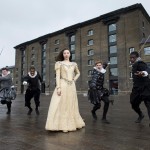 (Image by Helen Maybanks)
We have called the season Coming of Age because it's about moving on, leaving home, and grappling with the difficult subjects. Pope Joan is playing at St James's Church [in Piccadilly, London] that's casting from our wide net of actors in the company.  It's a new commission – we like to take risks with new writing and subject matter; and the one and only female pope is a good starter!
For our run at the Ambassadors, we needed some set texts and I've wanted to work on Romeo and Juliet for a while.  This concept [adapted for the NYT by Lolita Chakrabarti] is set in the early eighties; we're trying to make it relevant and hope that young people will be spellbound. It's a play about young people wanting to be with each other; Juliet is 14 in the play and is 14 in this is.
The other plays are slightly more challenging. Tory Boyz [by James Graham] is about junior researchers in Westminster and while five years after we first commissioned it, things have changed socially, within political parties it's still taboo and divisive. The Prince of Denmark [by Michael Lesslie] is a prequel, which is a lovely idea for young people to get behind the scenes. You see it 10 years before tragedy strikes and Ophelia, Laertes and Hamlet are all learning to deal with their parents' baggage.
National Youth Theatre should be by young people and we're not apologising in these subject matters. There's nothing second class about it – it's very grown up!