The manufactured music group is now such an established part of the pop world it's hard to imagine the cynicism that greeted the birth of Steps in 1997. Created by songwriters Steve Crosby and Barry Upton, alongside manager Tim Byrne specifically to perform 5,6,7,8 as a one-hit wonder, the trio were surprised by the single's popularity and so created a management company, brought in music producer Pete Waterman and signed them to Jive Records.
The wholesome fivesome stormed the world with their squeaky-clean, girls-and-guynext- door 'techno pop'. The rise, according to band member Faye Tozer, was swift.  She recalls: 'I was only 19, performing lounge music and I wasn't getting 'my buzz'. I was looking for something younger, and was going to loads of auditions. I got all my jobs out of The Stage newspaper and I'd done other auditions that week – I can't remember exactly what for, maybe a couple of musicals. I just thought, 'Oh I'll give this a go!'
And so she went from lounge singer dressed in glamorous evening gowns to hot pants and crop tops almost overnight. Faye's ability to transform and to adapt fared her well – particularly as she prepares to take the iconic role of Lina Lamont in Singin' In The Rain.
When we talk she is in the middle of rehearsals for the national tour, as she explains: 'Five weeks is very generous for rehearsals as you normally only get two weeks. It is so exciting. We have a very big cast and there is so much going on. We have three different rooms going at one time: there's a fabulous wardrobe department upstairs, people singing upstairs; in another room we've got people dancing – it's a full-on production!'
Faye had been in several musicals including Me and My Girl but the role of Lamont, in fact, involves no singing or dancing – the challenge has been to learn that distinctive accent. The 37-year-old says: 'This is the first musical where I'm not really singing or dancing. Lina Lamont's character is very beautiful but didn't have the voice to carry her through to the Talkies. I get some of the best lines and fabulous costumes but I do get a pie in my face every night so I've been trying shaving foam at home with my husband and my little boy to see which ones I'm allergic to.
'I've done lots of general American accents but I've never done Brooklyn. We've had a wonderful dialect voice but I have this hideous over-the-top affected Brooklyn voice. It's like learning a new language – with different inflections – I've been covering my script with scribbles!'
As a child, Faye immersed herself in the performing arts. Born in Northampton, her family decamped to Dunstable where her parents remain. Kicking off her musical career with the descant recorder, she had a go at the keyboard (though never learned piano properly), dabbled with the guitar and played the saxophone.
A good education was always a priority. 'I was a fairly good student and I guess I had a rebellious streak. My sister is very bright and you do get compared to your older sibling. Because of that I had a rebellious streak although I did keep my head down. My mum chose an upper school in Dunstable called Northfields because it had a drama department. There's always one teacher who makes a lasting impression and for me it was Mrs German. She was fabulous, a massive influence and we still speak to her and she comes to see the shows.
'I stayed on to do my A levels (my mum insisted, saying, 'what if you broke your leg or lost your voice?) and then I started work at 18. My mum was very supportive of my choice of career. The whole family were into am dram (my mum did the costumes, dad did the sets and Claire, my sister, and I did the shows) and the amount of hours mum spent driving us around for dance classes, drama classes and summer schools she was quite happy for me to make a career out of it.'
And so Faye started grafting; taking on a range of jobs that she valued as vital training. She may be known for her pop career but there was a lot going on before then – and since.  She says: 'You have to be prepared to do anything in the industry (within reason!). I danced with the Belinda King Dancers for two years and then I was in a covers band doing pubs and clubs and corporate functions. The clubs gave me a really good education – I can rig up a basic speaker set! You need to have that work ethic. It was when I was lounge singer in the Hilton Park Lane that I started looking for other things.'
Faye looks back on the Steps years with fondness. 'I don't think we realised how much we achieved until afterwards; until you get out of the bubble. Because it was just a single deal first of all it wasn't like we were showered with money. We were still travelling around on the Tube to get on the venues ourselves.
As Lina Lamont, below. Image Hugo Glendinning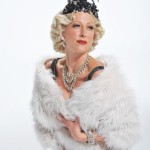 'It was only in the second year at our highest peak that it was really wonderful. You didn't know what country you were in; everything was organised for you so I didn't see my family for a long time. I missed all the birthdays, weddings and funerals – stuff that happens in real life – because you don't want to say no to an opportunity to promote the band.
'You have to keep on because there's always someone fast behind you to take over. I wouldn't change it though. I don't regret a thing. We had the most wonderful time but I think it's why pop groups burn out so quickly because it's a heavy load; you can't go on that long.'
When the end inevitably came in 2001 Faye turned in on herself. 'There was a lot of stress and outside influences. Claire [Richards] and 'H' [Ian Watkins] didn't want to be in the band and went off to do something together but for a long time the novelty had dropped off. The biggest question for me when the end came was 'Who am I?' Everyone is sorting out your schedule from what time you get up in the morning to what time you go to bed at night and then suddenly there's no one to do that for you.
'I have a very supportive family who help to keep my feet on the ground, it was a slow process. I invested in a recording studio for myself and had other people come through, write music and put my energy in that and keeping a low profile while I figured out what to do. I was lucky to get a call for a role in Tell Me on a Sunday and then it all started. I found something that was exactly what I wanted to do all along, had Steps not been in my life.'
Did Faye's classical training help forge this new direction? Clearly. She says: 'You can get your foot in the door because you have a name but you don't necessarily get the job because you have to be able to do it. I've taken a lot of chances to put myself out there, to challenge myself with things I didn't think I'd be able to do but I've learned so much from colleagues, musical directors and choreographers. It's about having confidence and faith.'
We discuss the difficulties of getting into the industry and young women, in particular. Faye says: 'If you want to get in to the industry, don't take no for an answer because even when people say you're not the right person you could try to persuade them otherwise. Today's singers sell themselves so differently. Steps were a clean family-type band and today it's more in your face. I don't like my little boy watching that because I don't want him to think it's normal. I'm a fan of Rihanna and Miley but I'm not a fan of how far they're pushing it. Being in this job your body and being sexy is part of it but you have to be careful.'
Singing in the Rain is currently playing Manchester Opera House. It then moves to the Wales Millennium Centre in Cardiff. For full tour details visit www.singinintherain.co.uk
A few of my favourite things
BOOK: Wuthering Heights
FILM: A toss-up between Labrinth and Fifth Element
MUSICAL: Blood Brothers
PLAY: Metamorphosis
TV: I don't have much time to watch television but I do like Would I Lie To You?
MUSIC: I'm a big fan of Ed Sheeran at the moment.