Image left: Donald Cooper
Actors in Holby City tend to attract quite dedicated fans – and 31-year-old Phoebe Thomas is no exception. If you look carefully online, there is a reverent picture slideshow available on YouTube (4,043 views) to the soundtrack of Pink's I Don't Believe You.
I am sure the chatty, super positive and upbeat Phoebe takes this in her stride – the medical drama was a great training ground – and she was well aware of the risks of giving up the regular income of a popular TV show to try new projects.
'It was difficult to leave' she said at the time. 'I've loved every minute…but I think you do have to move on eventually.'
And her fears proved right – she had some lean years after she left. Phoebe told Ink Pellet: 'When I came out of Holby City I had a quiet time and didn't work for a while. That's when I started building up my personal training business, Running With Us and I was keen to have something that was paying the mortgage.
'It really is tough when the money isn't there – you have to be patient!'
But it seems, recently, that the actress, who grew up in Palmers Green, North London, has landed on her feet after winning the lead role in Hetty Feather, the acclaimed new musical based on the Jacqueline Wilson novel. The show, which tells the story of the Victorian foundling whose search for her mother takes in a travelling circus, has won five star reviews, and is set to transfer to the West End for the summer.
Phoebe says: 'The reaction from audiences has been lovely and special. People are genuinely enjoying the show. I'm really pleased that it has been recognised as an ensemble piece because we all work really hard in it.
'I love this role. I have worked from a really young age and some jobs you enjoy more than others. Sometimes an audition will come up and you say, 'I really want this one'. When I read the book as preparation for the audition I thought, 'I really want to play that part' – it's challenging and exciting.'
That challenge continued at the audition, as Phoebe explains: 'At the audition, Sally [Cookson, the director] asked: tell me a story about yourself – not 'here are your lines'. She wants to see you and what you can bring to the process – I had to do a monologue, sing a song. I really enjoyed it; Sally pushes you until she sees what she wants to see; she gave us time.
'Because we are all playing children Sally didn't want us to play it as a caricature – she wants the energy and the spirit you can bring to the part.
'Emma Reeves [the adaptor] had not written the script because Sally usually devises completely; she has the book and goes from there, like she did with Jane Eyre at the [Bristol] Old Vic. This is a meeting in the middle as by the end there was a script. We didn't have dialogue; it was written as we went along – it was a real hands-on process.
'So for example, we had to recreate the streets of London, and were given five planks and it was a case of 'let's see what we can do with them'. It's a really exciting process because you don't know what you're going to come up with. Sally says no idea is too stupid but obviously some don't make it. It's experimenting. As we developed stuff, Emma picked out the lines and dialogue and created the script from that.
'I have adored not being confined by words and dialogue. I have really loved being so creative; it is scary because you haven't done the prep you normally would. It's challenging and rewarding too. I am an open performer anyway but it allows you to throw all your ideas at something; completely let go.'
Central to the story of course is the circus theme, so there is a lot of climbing and rope work.
Phoebe is a runner and has a high level of fitness and loved being trained in circus skills. She says: 'Nikki Warwick and Matt Costain, who are in the cast, are trained aerialists and we had an intensive week of learning circus skills and trapeze work. During the four weeks when we were devising, we had to do conditioning work – core skills, climbing ropes, swinging from hoops. Because I am also a personal trainer, I came to it with a level of fitness so I could be pushed further than they were expecting. I did get a lot of injuries though!
'We certainly sweat! There's a bit when I stand in my 'onesie' the striped costume – I'm thinking I am sure the audience can see the sweat. It's a really physical performance. We have to refuel and recover between performances – we're eating a lot of bananas!'
So what is it about the character of Hetty that is so appealing to youngsters? Phoebe says: 'She's a strong female character – determined, spirited and independent with a real sense of herself. She is cheeky and funny; she gets into trouble; she's a bit of tomboy; and she's independent. Hetty shows them to have a voice at the right time; to ask questions in life but not deliberately to rebel for the sake of it. In Victorian London, it takes courage for a young girl to voice those opinions.
'The rules and regulations of Victorian England put the lives of today's young people into perspective. When I read the book, I thought that every child should read it to see the value of what they have!'
But Phoebe insists this is a story for boys and girls. 'Jacqueline Wilson does have such a female following but the themes – and the show – can be related to boys too. There are a lot of male characters in it – Saul [Isaac Stanmore] and Gideon [Paul Mundell]. Although it's a female heroine, the setting – the circus, the fun, it's daring, exciting – it appeals to everyone. Hetty could just as well be a boy.
'And the whole story of Hetty's search for her mother, and the fact she just wants to belong, appeals to adults too.'
Phoebe has been acting since she was eight – she was even nominated for a BAFTA for best child actor in a commercial (for Flora margarine). She got that job by accident – two of her three brothers went to an audition and it was Phoebe who won it. Both her parents were teachers (mum art, dad PE then deputy head) and were musical – they were in a band together and her dad runs a blues club. She spent her childhood juggling school with acting jobs and classes in acting, singing and dancing – with the support of her family.
'I did well at school considering I was working. In sixth form, I always felt there was a gap between me and everyone else – I got on better with my teachers. I am still in touch with my old drama teacher Dave Lambert. He's been a real inspiration – such a brilliant, knowledgeable teacher, who really encouraged me.'
The plan to go to drama school was scuppered while she was studying for A levels in English Lit, Art and Theatre Studies. She won a part in Teachers, the Channel 4 series, and then was offered a year on Night and Day, a soap.
Phoebe says: 'It didn't do well even though it had a great adult cast – Joe McCann and Lesley Joseph – but I had a battle with ITV to let me finish my A levels. After that I just carried on working. Some people just learn on the job. There is a lot to be said for getting as much experience as you can but equally – Paul Mundell, who is in Hetty, was a chemist and decided to train as an actor when he was 29. I was encouraged by my parents to be versatile and try new things. They weren't pushy but supported me as long as I was enjoying it.
'You learn you have to love it enough; to love the craft not the idea of being an actor, or the idea of the industry – you have to do it because you love it.' Great advice indeed.
A few of my favourite things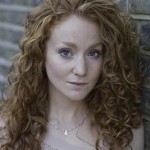 BOOK: The Time Traveler's Wife by Audrey Niffenegger (and the Hetty Feather trilogy of course!)
FILM: Before Sunset and Before Sunrise
THEATRE: I love Death of a Salesman but Jerusalem blew me away – I know it's a bit obvious but I'm happy to be on that bandwagon!
SHAKESPEARE: A Midsummer Night's Dream
MUSIC: I love blues with a country inspiration – Loudon Wainwright, Bob Dylan, Dr John and Etta James
HETTY Feather is currently on national tour and opens at the Vaudeville Theatre in London on August 5th. For details of the show visit www.hettyfeatherlive.com