Hugh Maynard plays John in Miss Saigon at the Prince Edward  Theatre. He has a long musical theatre track record, a new album out and a powerful personal back  story. SUSAN ELKIN finds out more.
Some actors present themselves as exuberant show offs presumably because they dare not stop performing. Hugh Maynard isn't one of them. He chats to me quietly, warmly sincerely and self-effacingly for an hour in the public area of the Soho Theatre as together we unravel his dramatic (in every sense) life and career.
Born in the West Midlands Hugh, 40, was – for reasons he has never understood – abandoned by his prostitute mother who had been pimped by his father. "It's one of the reasons that in adult life I've done a lot of work to support Women's Aid. I don't know the circumstances which drove my birth mother to do what she did and I never shall, but I tell myself that maybe if she'd had help and support things might have been different." Hugh has also worked with charities for children in care because he was in a children's home until he was eight – with several unsuccessful attempts at fostering. He also suffered abuse.
Eventually he was effectively adopted – although technically it was fostering – by a white family who took him to live in Paignton, Devon and gave him unconditional love as the second in their eventual family of four. Hugh's siblings were his foster parents' natural children. "I wasn't formally adopted because I wanted to keep my name – Hugh Maynard – because it was the only thing I had from my birth parents. I'm lucky too that when I started working professionally Equity didn't already have anyone of that name so I could continue as myself."
Hugh did well at Paignton Community College where he played B flat trumpet (at a high enough standard to play in the Devon Youth Jazz Orchestra), piano, guitar and kit drums. He also did Grade 8 music theory – no mean achievement. But he didn't sing. "There was a prevailing view in the school that boys played musical instruments and girls sang so that was me put in my place." he says. He adds ruefully that the two teachers running the drama department wanted nothing to with him either – another example of the rejection which seems to run through Hugh's life like a black thread.
Because he excelled in sports – as a 400m runner and later running a mile in 3.58 minutes during a short spell at Bath Spa University and being presented with a trophy by Sir Roger Bannister – and not really knowing what he wanted to do in life, he did a course in Leisure and Tourism at the local FE college after leaving school. "I took part in a bit of amateur dramatics around that time and by then was also doing a bit of singing but there was no one at all to give me any performing arts career guidance."
He wanted to train for performance so he auditioned for ALRA in London and is quite funny at his own expense of the mess he made of it. "When they asked me if I had prepared a speech I thought they wanted me to talk about myself. I didn't realise they meant, say, a bit of Shakespeare. And I took a backing tape with me which hadn't been wound back. But when I sang heads started to nod so I assumed I'd done something right."
When they asked me if I had prepared a speech
I thought they wanted me to talk about myself
He had. They offered him a two-year scholarship, but it didn't go well when he arrived there. "I thought I'd been admitted for my singing but I had a lisp and they said I couldn't do singing. Instead I spent two years doing little walk on parts and getting nowhere." Determined as ever he went to a hypnotherapist in the summer holidays who got rid of the lisp. Then he went to Arts Ed London for a one-year post graduate course. "And that was my real training. It was a really good year. They allowed me and encouraged me to do anything I wanted and I learned a huge amount. And I picked up dance pretty easily because of my background in athletics."
So well did Hugh do at Arts Ed that he was offered a part – Simon Zealotes and understudy for Judas – in Andrew Lloyd Webber's Jesus Christ Superstar revival and tour. "I was spotted by an agent in an Arts Ed production of Fiddler on the Roof for which I'd gone to a lot of trouble to learn the Ukrainan accent from a friend." Suddenly he was on his way and has barely been out of work since. "Superstar was a great opportunity. Apart from anything else I got to see the UK. When you've grown up in Devon then even Cardiff and London seem remote. So to be working in Manchester, Glasgow, Aberdeen and other cities all over the country was terrific."
Since then he's been in The Lion King, Notre Dame de Paris, Follies, Dancing in the Streets, Sister Act and more. Following an accident in New York which snapped his Achilles tendon and took him out of theatre for nearly two years – wheelchair, crutches and eventually an air cast – he started working with the concert group Tenors of Rock and did a world tour with them. "I'd remove my air cast in the wings, get onto the stage in my socks (which the audience couldn't see) and then I'd simply rock as I sang. The marching numbers were a problem!"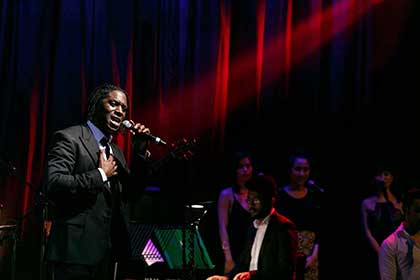 Hugh has also done straight acting, especially in soaps, during the eighteen months he was in Australia with the Asian woman he was engaged to. Her family rejected him on grounds of his colour and declared that they would sever all contact with their daughter if she proceeded. "It was very sad and desperately difficult but I know better than anyone how important family is, so in the end I told her she must choose them and I left. It's taken me three years to feel confident enough to embark on a new relationship." His eyes twinkle as he tells me that he's now been in a relationship for six months with a neuroscientist who has just completed her doctorate. "I get on very well with her Italian family. They've even bought my album."
Ah yes, the album. It's Hugh's first and it comes up several times in conversation. Hugh has self produced Hugh Maynard: Something Inside So Strong, issued this year, and is clearly very proud of it. "Eventually I'd quite like to move into producing so that I can work rather more regular hours and maybe settle down with a house of my own and a family. I'm determined that when I have children they will have, from day one, everything which I lacked." He is half hoping that if the album does well it will act as an indicator that performing isn't all he can do.
Hugh's current job is playing John in Miss Saigon – a reprisal of the role he first played in 2004 – and part of an ongoing association with Cameron Macintosh which has already lasted 12 years. He is clearly good at what he does, I suggest. "Maybe, but there's no room for complacency", he says. "I might be out of work when this contract runs out in 2016." Somehow I doubt it although he says he doesn't want to be pigeonholed as a musical theatre performer and would like to do more straight acting.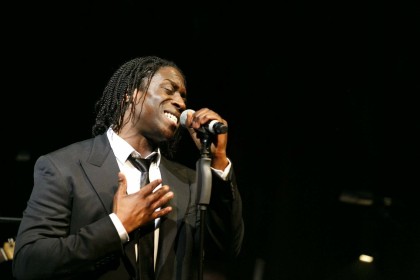 Many people in Hugh Maynard's position would be bitter. He has overcome a lot of adversity to get where he is today. To his incredulity even his adoptive parents have now rejected him. "My adoptive mother had a stroke and my father what I can only think of as a nervous breakdown. He hurled abuse at me when I last saw them. I thought they were my family forever. But apparently not. We're not really in touch now."
Instead of bitterness he expresses gratitude. "I am just very grateful that I had their love and support for 21 years," he says with sincerity. For a man who's been thrown aside so often, Hugh Maynard is astonishingly positive. Instead of indulging in recriminations he channels his energy into being a fine performer and into helping others as much as he can. "I want to look forward and not dwell too much on the past," he says, chuckling that he has to deliver an inspirational talk at Paignton College soon. "They invite former students perceived as professionally successful to encourage current pupils. I'll have to be careful what I say given how I was excluded from singing and drama there!"
Hugh Maynard's album is available via his website: hugh-maynard.com You can follow Hugh on Twitter @HughMaynard