The Snow Queen seems to be the Christmas play of choice for our artistic directors this season but surely none can be as inventive, as moving and as entertaining as the Unicorn Theatre's offering.
Firstly it is set in India, a master stroke of an idea from the author Anupama Chandrasekhar who wanted, with director Rosamunde Hutt, to tell the Hans Christian Anderson tale in a new way. So Gerda becomes Gowri, in the engaging, warm and talented shape of actress Amaka Okafor. When her dearest friend Kumar (Ashley Kumar) is bewitched by the imperious Snow Queen (Nimmi Harasgama) Gowri sets off on a gruelling and challenging quest to find him. Along the way, she encounters strange characters, from the old lady who wants to keep hold of her to the hilarious Sea Goddess, who helps her set sail for Mumbai. Onward Gowri travels to Bollywood from where her journey continues until she meets the Bandit Queen who sets up her final encounter with the Queen.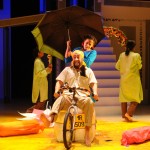 There is much to admire, not least Chandrasekhar's tight script which is perfectly pitched – producing hearty laughs from young and old in the audience. She manages to break moments of deep pathos with brilliant one-liners: 'I am fluent in fart' was a particular favourite with my young companion. The denouement is moving, particularly as we know the Snow Queen's back story – a common device it seems in modern plays. Harasgama's heart-rending sobs stilled the audience.
Elsewhere, the players shine in an ensemble piece where as ever doubling up of roles is required. This can often cause confusion but thanks to strong characterisation and brilliant costumes there was none this time. What does confuse is the reliance on movement to tell the tale in the middle of the second act but this is certainly not a deal breaker in what is a wonderful piece of theatre.
The evocation of city life is brilliantly done, with thumping music, and the shouts of (a mere) seven players, as well as the colour and variety of street vendors. In fact music is a strong point here, composed by Arun Ghosh, while the movement (bold, varied and authentic) was created by Trestle Theatre's Emily Gray.
Highlights included the hilarious rickshaw taxi journey led by Kaka (Asif Khan), his security guard wife Kiki (Pooja Ghai) and the mocking, impatient sea goddess. Nimmi Harasgama particularly shone as the director while Raj Bajaj made the role the Tree a must-have cameo.
All in all, this was a joyful night. I overheard someone comment: 'Everyone feels really happy'. We were. But that's great theatre for you!