One of the landmark books of children's literature, The Boy in the Striped Pyjamas, published in 2006, is heart-breaking and controversial; a must-read for its intended audience – children – that quickly became essential reading for adults.
For the author John Boyne, this book was life-changing. He says: 'The Boy in the Striped Pyjamas is the most well-known of my books. What I wanted to do was to write about this extreme violence without having it on the page. I thought it might be scarier this way. It doesn't graphically portray the violence. The book was a life-changing experience for me. It was read by an awful lot of people; there are so many books out there and so many writers, you just need that breakthrough moment to catch people's attention.'
So how do you write a book like that? 'It was initially two boys at a fence talking to each other and I'd been thinking about it for a while,' Boyne explains. 'It came quite quickly; the story flowed very deeply and easily. I never planned the ending – I never plan books but early on I knew how it would end; that that was where the story was heading. I don't like to plan every stage.'
Set during World War II, the story is seen through the innocent eyes of Bruno, the eight-year-old son of the commandant at a concentration camp. The young German lad forges a forbidden friendship with a Jewish boy on the other side of the camp fence which has startling and devastating consequences.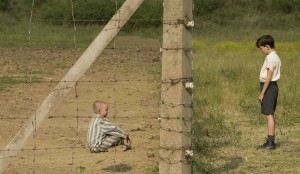 Bruno's friendship with Shmuel takes him from innocence to revelation, revealing the irony that through a child's eye everyone can appear equal. That child's eye view was important as naturally, the family has to be portrayed in a loving way even though you the reader know exactly what the father is. Bruno, of course, loves his father. But Boyne remarks: 'It's interesting to think of those families at the time. It's an intriguing idea that the father is playing with his children in the evening and killing people during the day.
'When I gave the book to my agent I said it was a novel for young people because the story was about two nine year-olds. That's how we presented it to the publisher and then it crossed boundaries into adult literature which was great and I was happy about that.'
As well as winning many fans, the book attracted some controversy, with some readers complaining that the book was a misinterpretation; that the events in the book had not strictly happened. These views did not surprise Boyne; his aim was to reach the reader, to make them care about the boys and their characters and be moved by their journey.
A writer's life was on the cards ever since Boyne can remember. A shy, quiet and introverted child, he spent his childhood in Dublin writing stories from the age of about eight or nine. 'I remember thinking at the time that this is what I want to do. I was writing stories through my teens and hoped I would get to a place in my life where I was writing novels. That was the only career that I really plumped for.'
His parents were supportive. His dad was an insurance broker and his mother a housewife, and they could see he was actively writing and taking it seriously. There was no question of not moving into what was a precarious career:  'I was just one of those young people who was clear about what they want to do with their lives,' he says simply.
Boyne read English at Trinity 'the thought of reading all these classic works of fiction, poetry and drama seemed like a pretty good way to spend a few years' and then took a year off. He joined the renowned creative writing MA course taught by Malcolm Bradbury at University of East Anglia (alumni include Kazuo Ishiguro, Tracy Chevalier, Ian McEwan and David Almond). Boyne recalls: 'I wanted to do something I enjoyed and I think it was helpful to have a grounding in literature. I had published a few stories already and thought I was great,' he chuckles.
'But what I didn't realise is that I didn't have my own voice and was imitating other writers. The creative writing course made me recognise that I needed to find my own style and what I wanted to write about. I found the workshop environment, the criticism of having people read your work and pointing out the lack of authenticity in it very helpful. 'If you are a student on the course, if you go in with the right attitude and want to learn and want to listen, you stand more chance of gaining from it. I think I had that attitude. I certainly knew that if I wanted to do this with my life I had to work harder at it.'
After university, Boyne got a job in Waterstones in Dublin and worked there for several years. At this time, he published his first two novels – The Thief of Time in 2000 and The Congress of Rough Riders a year later. Soon after this he got an agent and a publisher and a couple of years afterwards he began writing full time.
Reflecting on the experience of being published, he says: 'It is so exciting to be published and the culmination of so much work. But young writers don't recognise that just because you get published it doesn't mean you'll continue to be published. Some writers have instant success and I didn't. It's hard to maintain a career if you don't have instant success so it was a more diff cult experience than I expected.'
After the film of The Boy in the Striped Pyjamas written and directed by Mark Herman, planning for the stage production is now gathering pace. Produced by the Chichester Festival Theatre and the Children's Touring Partnership, the story has been adapted by Angus Jackson, whose credits include The Browning Version and Goodnight Mr Tom and directed by Nabokov theatre company's Artistic Director, Joe Murphy.
Boyne says: 'I was very pleased with the film; it was a really strong adaptation. I worked closely with Mark, who would send me drafts and I would send back my thoughts but in an informal way.
'Now Angus has given me a chance to offer my thoughts. I'm really happy they're doing the play and I'm looking forward to seeing it but for me my life has moved on. There's a danger I could get trapped too much in the novel. I think they're going to do a really good job on it. It has few characters and few locations; it's a minimalist story in a way and it think that will work well on stage.'
That wish to 'move on' from the book is demonstrated in his subsequent books for children: Noah Barleywater Runs Away in 2010, a fairytale about a boy who runs away and The Terrible Thing That Happened To Barnaby Brocket, 2012, another quirky tale about a boy who can float in the air and as a result is abandoned by his parents.
Boyne says: 'With Barnaby, I wanted to write a different book – and wanted to write something funny because a lot of my books are sad. I wanted a change and Barnaby was born. It's one of my favourites. Both books were illustrated by Oliver Jeffers who I have known for about ten years and we've worked a lot together. He's extremely talented and we work extremely well together – his cover for Barnaby was lovely.'
Now working on a new book for young people, this earnest and gifted writer from Dublin returns to his desk in his home town; at work in his office that overlooks his garden.
And we wait in anticipation.
The Boy in the Striped Pyjamas opens in February and will embark on national tour, taking in Canterbury, Nottingham and Kingston. For full details of tour dates, check with local venues.